I am fortunate these days to have retired from my "day job."
Now I don't have to choose between writing and exercise, but I sure can remember doing so.
I developed a routine of getting up around 5:00 a.m. and writing for maybe 1 – 1 ½ hours before getting ready for work. On office days, I would walk at lunchtime and maybe go for a short hike after work.
This was easier in summer when there was lots of light! Then my evenings would be spent at the computer from about 6:30 – 9:00 p.m. This was definitely not my best time for creative writing, but it was the time I had, so I put it to use.
Get Up from the Computer
Now my biggest physical challenge is to remember not to spend more than an hour or so at the computer at a time.
My eyes fatigue easily when staring at the screen, and I need to get up and send some oxygen brainward. I take a real break from writing after 3-4 hours of work. Then I get out for an actual hike or ski, maybe 2-3 hours at most. Then back to the writing desk, refreshed, until time to cook dinner.
Another thing that is not good for me is to get angry and frustrated with the computer—well, who doesn't? I'm in the middle of writing something and have to pause to look up a statistic or whatever, and my search engine doesn't give me what I need or I can't find it in my files and it ends up taking a half an hour, etc. By the time I get back to my work, I am out of the mood to write.
This is especially annoying when I think I'm looking for a simple item that should be easy to find.
Now that I am retired I can write when I have the most creative energy—a gift. For me, this is early morning until about 11:00 a.m.
Set Up an Ergonomically-Friendly Work Space
I made sure my chair height and screen allowed for proper alignment so that I could look straight ahead at the screen, neither up or downward even a little. This helps the neck greatly.
Chair height is also important for the legs, for they have to be relaxed and comfortable or you get sore knees, swollen ankles, foot cramps. I have a good chair with lumbar support, but not top-of-the-line expensive.
My keyboard and mouse are on a pull-out surface so they are easy to reach while allowing around three feet between my eyes and the computer screen. (How nice that I can increase font size if necessary!) My elbows can relax and I lay the heels of my hands on a wrist guard, which seems to eliminate the carpal tunnel issue.
When Your Back Muscles Yell, "Enough!"
All that said, I can get extremely tense when writing. I'm concentrating on the work, the typing, the checking of it as I go, and after a while I am aware of the neck and upper back muscles yelling, "Enough!"
That's why I try to get up often or stretch in place. I attend a yoga class weekly (ideally that should happen more often), and go to a therapeutic massage specialist once in a while.
All the hiking and skiing I do is helpful for aerobic exercise and well-being, but does not necessarily contribute to muscle flexibility. In fact, I think it makes me tighter. So I seek a balance there.
Doing something else that is creative helps me also. I paint and garden and cook, and a few minutes of raking or chopping vegetables gives me a satisfying alternative to focused work at the computer.
What Makes You Think That's Going to Interest Anyone?

Probably my biggest challenge is to believe that my work is worthwhile. The little voice is always saying, "What makes you think that's going to interest anyone?" And so on.
If I allow myself to question the value of my work and spend any emotional energy envying someone else's success, I drain myself of motivation.
The only thing that works to overcome my periods of self-doubt is to keep writing.
Once I sit down at the desk and open to wherever I left off and start working, I become absorbed in it and all the reasons I had for stalling fall away. I usually read what I wrote the day before and I either think it's not as bad as I had feared or I have a new idea for how to improve it. That gives me the boost I need to keep moving forward.
The One Thing That Has Kept You On Your Path
I have a desire to satisfy myself that I have done the best I could. When a piece is rejected, I take another look at it and work some more before resending it, and I always find the revision has improved things.
Usually after a few times, the work finds a home. I'm referring to essays in journals here—a different story when it comes to full-length books. That I find to be a huge challenge, but also exhilarating as the creative process takes over. And, like the reader, I want to know what happens next, and the only way I can do that is to write it.
I happen to enjoy revision, especially after an astute reader has given me feedback. Instead of striking off on the unknown path of first-draft storytelling, I have a sense of direction as I work. That keeps me going.
Underneath all this is a desire to tell stories that seem to want to be told. Images or characters occur to me and if they carry some heat for me, I feel impelled to explore them more.
Advice for a Young Writer: Be Sure of Your Own Motives
Be sure of your own motives and persistence.
Many aspects of writing are hard, if you are doing the kind of work that comes from your deepest self. For each person the hardest thing will be different than it is for me.
But over the course of decades, from young-aspiring writer to the present, I found the hardest thing was to overcome the self-doubt, to stop taking myself and my work so seriously, and to let it be joyful. I have taught workshops and so on, and many times during Q and A sessions the first thing asked is, "How do I find an agent?"
I think the desire to be published and see that byline on an essay or article—or book—is a strong motive, but eventually that falls aside to reveal a more authentic motive that comes from the deep interior of a person who really wants to write. This is very liberating, but sometimes it takes years to achieve.
My advice to anyone seeking to overcome difficulty in writing is pretty simple—read excellent writing, write as much as you can sustain (even if ½ hour per day—you'd be amazed by how much you can get done in that amount of time), and get feedback from other writers.
Focus on the craft, for a writing apprenticeship can last a lifetime.  However accomplished you become, you will always have much more to learn, and that is the joy of writing.
* * *

Susan Marsh is an award-winning writer living in Jackson, Wyoming. In 2010, she retired from the U.S. Forest Service after thirty years as a wild land steward in the Greater Yellowstone region.
Her books include Stories of the Wild (The Murie Center, 2001) and The Wild Wyoming Range (Laguna Wilderness Press, 2013). Forthcoming in 2014 are her first novel, War Creek (MP Publishing) and a wilderness memoir, A Hunger for High Country (Oregon State University Press).
For more information on Susan and her work, please see her website.
---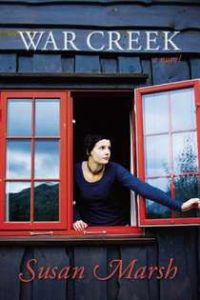 War Creek: When ostracized daughter Agnes Clayton, now middle-aged and alone, returns to the wilds of the Northwest after a life in various western cities, she is determined to make moving her father out of their family home in War Creek as quick and painless as possible. Reconnecting with her estranged father, a retired ranger, proves difficult at best, and extracting him from his fiercely beloved ranger station seems impossible. Over the course of a long summer she becomes entangled with opposing forces in the isolated rural community in the Cascade Mountains. Agnes hopes to answer questions from her past and find not only closure but redemption.
War Creek exposes the dark secrets that lurk in every family. Set in stunningly harsh yet beautiful wilderness, the novel bridges past and present to reveal the hidden truths Agnes so desperately seeks. Susan Marsh's debut novel poignantly explores family dynamics riddled with guilt, grudges, and half-truths.

Available at Amazon.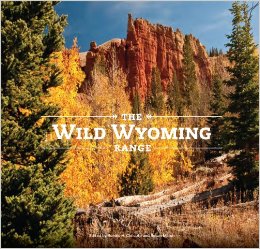 Wild Wyoming Range: The Wyoming Range stands like a dusky silhouette above the sagebrush sea, revealing its splendor only to those who venture off the highway. Its snowy peaks and long ridge lines extend nearly a hundred miles from the confluence of the Hoback and Snake Rivers to the headwaters of LaBarge Creek. The mountains highlighted in this book of photographs and essays include not only the Wyoming Range but the Salt River Range, Greys River, and the long, high ridges stretching another fifty miles to the south: Commissary Ridge, the Tunp and Porcupine Ranges, Absaroka Ridge.
In this vast landscape of singular beauty, the Old West lives on. As the energy boom expanded over the Green River Basin to the east, conservation groups were the first to sound the warning about the impending industrialization of the Wyoming Range. Their voices were soon joined by those of sportsmen and outfitters. Elected officials, including former Governor Dave Freudenthal and Senator Craig Thomas, heard the rising call for protection of this, one of Wyoming's wildest and least-known mountain regions. In 2009 the Wyoming Range Legacy Act was signed into law to protect the area from future oil and gas leasing. This book includes the hard work of professional photographers and writers, scientists, environmental leaders, and citizens with a common cause: sharing the unsung beauty and wonders of this special place.
Available at Amazon Amazon.
Tags: exercise, lumbar support, office space, self-doubt, Susan Marsh, wellness, writing, yoga