I don't like to sit still, so I find that I write in spurts, and sometimes standing up at an improvised desk (my laptop atop a fat dictionary atop a short bookcase).
I make all my phone calls when I'm out walking. I need to get outside and move, otherwise I get crabby and can't sleep. I need the company of trees. I love saltwater. I live on an island, and keep bees.
The Lines Between the Inside and Outside Worlds
The lines between the outside world and the inside world, between my environment, my body, and my interior self, have always been fuzzy.
My habits are hard-won, common-sensical and moderate: good sleep, a little sweat, some stretching, an occasional glass of wine with dinner, real food. Drawing grounds me. Writing frees me. The beauty of the place where I live, my family and my friendships are vital to my well-being.
I Have No Idea How the Publishing World Works

How to deal with rejection: stubborn faith? Delusional persistence?
It took me years to get my first novel, Mockingbird, written and then published. I'm working on my second novel and very much hope that it, too, will be published and distributed. But I have no idea, really, how the publishing world works; it seems like a mix of politics, luck, chaos and magic.
I have a website, Notes from Elsewhere, on which I post short stories. Notes gives me some measure of autonomy, the satisfaction of feeling like I've practiced, I've written something from beginning to end. I've released it to the world.
I Had a Red Plastic Typewriter When I Was Four

I've believed I was a writer since as far back as I can remember.
I had a red plastic typewriter when I was four, and the clear desire to use it.  And yet, my path has been meandering. I studied painting, then made films, and didn't commit to writing fiction until I was forty.
I've been semi-nomadic; my community is far-flung.  I did take a writing class at the University of Calgary, and although I studied with Aritha van Herk only for a matter of months, I consider her one of my great teachers and inspirations.  I am fortunate to have a couple of dear friends who are artists, mothers, and brilliant, constructive readers.
Raising a child, being married, making a living, having a life: how to balance these with writing time? It can be a conundrum. I strive for simplicity, with no claims of success.
Writing manages my anxieties, transforms them. Not writing makes me anxious. Writing is my way of being myself. It doesn't feel like a choice.
Advice for a Young Writer: Listen to Yourself
I'm lousy at giving advice. All I know is that you should listen to yourself. Sometimes, it can be hard to hear, hard to trust, so go someplace quiet.
Be honest, be rigorous, be gentle with yourself. Take joy.
* * *
Julie Trimingham was born in Montreal and raised semi-nomadically. Notes from Elsewhere, a fictional travel blog, features reportage from places real and imagined. Her film work has screened at festivals and been broadcast internationally, and has won or been nominated for a number of awards.  She trained as a painter at Yale University and as a director at Norman Jewison's Canadian Film Centre in Toronto. Upon moving to the Pacific Northwest, Julie taught screenwriting at the Vancouver Film School for several years. She has since focused exclusively on writing fiction. For more information on her and her work, please see her website and blog.
---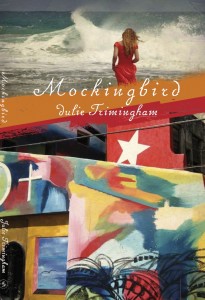 To buy Mockingbird: An out-of-work actress travels to Havana in search of purpose, or at least of connection, and finds more than she ever imagined. Her entanglements there—with her own boyfriend, a telenovela-loving innkeeper, a compelling pianist, and a complicated teen mother—are filled with mixed motivations, selfishness and altruism, love and peril, faith and disaster.
Mockingbird charts the fraught course of Mia's journey back home. As Mia says, "Legal and moral are hardly the same."
Julie Trimingham's debut novel has the tight plotting of a film, is rich with the colors and music inspired by Cuba, and asks difficult questions about limited perspective, cultural arrogance and what it means to be a good person.
Available at Amazon, Barnes & Noble, Powell's, and Indiebound.
Tags: community, health, Julie Trimingham, Mockingbird, nomadic life, travel, wellness, writing