My mental and physical health are inextricably linked.
I've shared my personal space with anxiety and depression my entire life, and any attempts to mitigate or improve with medication has run the spectrum from ineffective to disastrous.
I long ago learned that physical activity and a carefully tuned diet are among my best resources for shoring up my emotional and mental defenses. Yoga, swimming, hiking, biking and a diet rich in fruits and vegetables, lean protein, and high-quality fats make up my daily mood management.
I avoid sugar and processed food. Salty anything, fresh bread, chocolate, and good wine are pleasures I can overindulge in, but self-forgiveness is another healthy practice I'm learning.
Yet it took me a long time—decades, really—to figure out what I needed to do for the health of my soul.
My First Writer's Conference: I Was Overwhelmed!

June 2012: My first writers' conference. I entered trembling, wondering if there was a secret handshake, if I was too young or too old, if it was written all over my face that I did not have the all-important work-in-progress.
Famous Writers wandered about, a Poet Laureate or two; Literary Agents took 5-minute pitch appointments; aspiring and published authors clutched notebooks and tablet computers—their dreams penned on college-ruled pages or stored on a flash drive.
For the next three days, I learned how to seduce with a sentence and pack premise into a novel; I scribbled pages of notes on story-boarding techniques; I held my breath as a panel held court on Breathing Life into Characters. I came away from each session with concrete ideas to put into practice. I was inspired, motivated and overwhelmed.
If I Fail at Writing, What Then?
Writing had always been a distant fantasy, one I stored high on a shelf. Fear kept me from taking it down and trying it out, because if I failed, what dreams would be left to me? It was safer to pretend I still had the option.
Yet as I crested forty-one, I became less afraid of failure and more worried that my chances to begin again were shrinking.
Taking that dream down from the shelf and blowing off the dust, I began attending writing workshops in Seattle, and then experienced the joy of having stories accepted for publication. I stepped into that writers' conference in the summer of 2012 with three ideas for a novel, hoping to find a way into one of them, to learn how to channel my thoughts into something real on the page.
I was also ten weeks' pregnant, my heart as full of hope as my body was with life.
The Death of One Dream Sparks Life In Another: A Mother's Heartbreak
Just before the conference's final session, I dashed into a bathroom to pee. Pulling down my underwear, I saw what I hadn't felt: bright red blood. I sat on the toilet with my head between my legs as the world went gray.
This wasn't the first loss, but I knew it would be the last. I was forty-three. After years of unexplained infertility, attempted adoptions, then the unexpected pregnancies, miscarriages, and surgeries, my body was battered and my soul couldn't take any more. It was time to stop.
Those years of attempting to be a mother came to a definitive end at that writers' conference. Yet something else sparked to life: a determination to find a way not only to cope with the despair, but to celebrate the life I did have, to create something beyond and greater than myself.
Writing is How I Create Life
Two weeks after the conference, I typed the opening words to my first novel, the novel that became In Another Life (Sourcebooks 2016). I didn't set out to write about a woman recovering from grief, about the impermanence of death, the possibility of rebirth—of the body and the heart.
In fact, I thought I had chosen the one story that would take me furthest from my own reality: a past-present adventure exploring a 13th century murder in southern France. Funny what the heart does when the head is distracted. It works to heal.
I write, because writing is how I create life.
Cleaning the House Helps Me Clean My Mind
A boyfriend called it "procrasti-nesting," or when he was being especially pithy, "rage cleaning."
Yes, it is the process of doing everything but writing. There are times when I must leave the house in order to do the work that needs to be done, to escape the distractions of laundry and bathtub rings, dust and dirty dishes.
But there are times when cleaning the house can serve to clean my mind. Even as my hands are engaged in activity other than moving a pen across a page, my mind can dive into plot holes and story problems.
Giving Up the Time and Space to Write Every Day
Twenty-five years of marriage. Astonishing, no? I'm so very proud of those years, of the adventures and accomplishments celebrated, the heartbreaks endured, the commitment and compassion shared.
My husband was supportive of my writing from the very first word and agreed to sacrifices mutually made so that I could pursue my avocation. But even as my debut novel took flight, my marriage was a bird dragging a broken wing. I knew if it ended, so would my realized dream of writing full time. But I couldn't live a life that was no longer mine, nor ask my husband to continue with something neither of us had our whole hearts in any longer.
My career is not yet, may never be, at the point where I can support myself on book sales alone. I write, I teach, I maintain a freelance editing and writer coaching business. And I returned to a full-time day job the same month my divorce was final.
Giving up the time and space to write every day, the certainty of writing a novel a year—which is the track I was headed down—gutted me. But the greater truth—acknowledging the end of our marriage and rejoicing in two hearts set free to grow into their authentic selves—is grace in action.
I continue to write and publish; my ex-husband and I remain each other's greatest champions, and we each have found new and precious love.
Advice for a Young Writer: You Can't Do It Alone

It takes a village to publish a book.
No matter which path to publishing you walk, traditional or independent, you cannot do it alone.
Find mentors—writers at different stages of their careers—and listen, watch, learn. Ask questions, be humble, and don't wait—reach out now. Writers' blogs, Facebook groups, Twitter chats are all great resources for connecting with writers and finding your tribe. Reach out in both directions—up and back. Always be willing to help someone right behind you.
And always, always be working on your next story. Don't sit hitting refresh on your e-mail when you begin sending out queries or your novel is on submission with editors. The process can take months, years. Always be writing the next book.
The first thing my now-agent asked me after reading and expressing enthusiasm for In Another Life was, "What else do you have?" I sent her a draft of my second novel and I had an offer of representation by the end of the week. That second novel will launch in September 2017. A third is now on submission. And I'm taking the first breathless steps into a fourth project.
* * *
Julie Christine Johnson is the award-winning author of the novels In Another Life (Sourcebooks, 2016) and The Crows of Beara (Ashland Creek Press, 2017). Her short stories and essays have appeared in several journals, including Emerge Literary Journal; Mud Season Review; Cirque: A Literary Journal of the North Pacific Rim; Cobalt; River Poets Journal, in the print anthologies Stories for Sendai; Up, Do: Flash Fiction by Women Writers; and Three Minus One: Stories of Love and Loss; and featured on the flash fiction podcast No Extra Words.
Julie holds undergraduate degrees in French and Psychology and a Master's in International Affairs. She leads writing workshops and seminars and offers story/developmental editing and writer coaching services. A hiker, yogi, and wine geek, Julie makes her home on the Olympic Peninsula of northwest Washington state. 
For more information on Julie and her work, please see her website, or connect with her on Facebook, Twitter, Instagram, and Pinterest.
Main photo credit: Mark Sandvig
---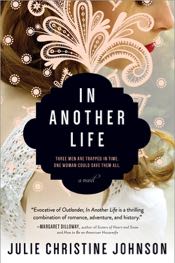 In Another Life:  Historian Lia Carrer has finally returned to southern France, determined to rebuild her life after the death of her husband. But instead of finding solace in the region's quiet hills and medieval ruins, she falls in love with Raoul, a man whose very existence challenges everything she knows about life–and about her husband's death.
As Raoul reveals the story of his past to Lia, she becomes entangled in the echoes of an ancient murder, resulting in a haunting and suspenseful journey that reminds Lia that the dead may not be as far from us as we think.
Steeped in the rich history and romantic landscape of the Languedoc region, In Another Life is a story of love that conquers time and the lost loves that haunt us all.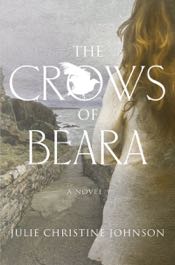 The Crows of Beara: When Annie Crowe travels from Seattle to a small Irish village to promote a new copper mine, her public relations career is hanging in the balance. Struggling to overcome her troubled past and a failing marriage, Annie is eager for a chance to rebuild her life.
Yet when she arrives on the remote Beara Peninsula, Annie learns that the mine would encroach on the nesting ground of an endangered bird, the Red-billed Chough, and many in the community are fiercely protective of this wild place. Among them is Daniel Savage, a local artist battling demons of his own, who has been recruited to help block the mine.
Despite their differences, Annie and Daniel find themselves drawn toward each other, and, inexplicably, they begin to hear the same voice–a strange, distant whisper of Gaelic, like sorrow blowing in the wind.
Guided by ancient mythology and challenged by modern problems, Annie must confront the half-truths she has been sent to spread and the lies she has been telling herself. Most of all, she must open her heart to the healing power of this rugged land and its people.
Beautifully crafted with environmental themes, a lyrical Irish setting, and a touch of magical realism, The Crows of Beara is a breathtaking novel of how the nature of place encompasses everything that we are.
Available at Amazon, Barnes & Noble, Powell's, and other online retailers.
Tags: creativity, Julie Christine Johnson, miscarriage, women's fiction, writing challenges, writing depression