Sitting at a desk for long stretches of time takes a toll on my body in many ways.
When I'm chugging along, it's hard to avoid as many as 20 hours at a computer each day. But to be fair, this is the case with all of us who work at a computer—not just writers but all office workers.
I've tried a lot of different things. I sat on an exercise ball instead of a chair for a while, but it didn't help and may have aggravated my back, though that's debatable. I now have a desk I can change from standing to sitting, and that helps.
To counteract all the sitting, I've done a lot of yoga, and now I also perform a healing dance called Nia. (Read more about Nia here.) Some of the Nia moves I incorporate in my daily life outside the studio, too. I'm also eating what a chef I know calls the "meat and leaves" diet, pretty much permanently.
We Could Do Without the Stress of Self-Promotion
Every single bit of this is emotionally challenging, from rejection, which comes with the territory, to the stress of self-promotion.
I love the challenges of the writing itself; that's a puzzle I'm happy to solve, even when I'm sweating it out. But the other stuff, we could all do without.
I cope with rejection by remembering that you can only get rejected if you put yourself out there, and the more you put yourself out there, the more you get rejected.
To counter the stress of self-promotion, I make it enjoyable by spending half my social media time promoting other writers' books. I love books and have no qualms telling people about them.
I don't really understand why other writers don't do this. I mean, readers can get through your book in one sitting, so what are they going to do while you're working on the next one? Why not tell them what else to read?
In a Writing Career, Dark Moments are Common
I've weathered the collapse of the newspaper industry and volatile changes in book publishing and the game industry. I've seen a decline in reading overall at the same time that more and more people want to write books.
So dark moments are common.
I get past them by throwing myself into my work. That's the part I can control.
Writing is My Core Expression
[What keeps you true to your path?]
Writing is my core expression. It's in me and won't leave. I can't not write.
Advice for a Young Writer: Don't Quit Your Day Job
The hardest part is accepting that you will need to have a solid day job, perhaps forever.
* * *
Lisa Brunette is a novelist, game writer, and journalist. Her non-fiction has appeared in the Seattle Post-Intelligencer, Seattle Woman, Crosscut.com, and many others. She's the award-winning author of the Dreamslippers mystery series and other works and has hundreds of story design credits in digital games.
For more information on Lisa and her work, see her website, or connect with her on Facebook, Twitter, Instagram, and Pinterest.
---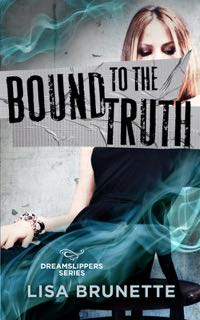 Bound to the Truth (Dreamslippers Series #3): "The plot runs deep" (Sage's Blog Tours).
What if you could "slip" into the dreams of a killer? This family of PIs can. They use their psychic dream ability to solve crimes, and that isn't easy. Especially when your client thinks she knows who the killer is, but you don't believe her.
Did Nina Howell really fall under the spell of a domineering, conservative talk show host—as her wife claims?
"I found myself completely submerged" (Book Fidelity).
Available at Amazon and Barnes & Noble.
Tags: nia dance, self-promotion, standing desk, writing marketing, writing rejection