by Holly Robinson
Congratulations, Fran! You are the winner of a free signed copy of Folly Cove.

I was inspired to write Folly Cove because I've always wanted to set a book on Cape Ann, on the north shore of Massachusetts.
This area is associated with so much history—and many, many weird facts.
For instance, when this peninsula was discovered by the explorer John Smith, he named it "Cape Tragabigzanda" after his mistress in Istanbul, where he'd been held prisoner. King Charles changed the name to "Ann" because that was his mother's name. (Guess which name I like better?)
The English colony that originally settled on this Cape in the 1600s was one of the earliest in New England, and that history is evident in the stone walls, granite quarries, and old houses all over Cape Ann. You need only spend a brief time here to be awed by how tenacious the settlers must have been to make a go of things.
Oh, and I set the book in an historic inn because I've always wondered what it would be like to have one of those inns be part of your legacy—especially if you didn't always get along with your family.
Writing a Novel from Four Perspectives—What Was I Thinking?
Definitely my biggest challenge in writing Folly Cove was point of view.
Originally, I told the story from the point of view of two of the three sisters—Laura and Anne, who literally come to blows over a man. Then it seemed wrong to leave the third sister, Elly, out of the novel. I added the father into the novel, too, because he'd been missing for thirty years and I wanted the readers to know why.
About three-quarters of the way into the manuscript, I realized the mother's point of view really had to be included, since her cold, removed parenting greatly impacted the three sisters. Plus, it was important to make her a three-dimensional woman, not a Cruella sort of stereotype villain.
I ended up dropping the father's point of view, but stuck with the three sisters and the mom—four points of view in all. (The next time I think it's a good idea to write a novel from four perspectives, I'm hoping one of my friends will take me out for a glass of wine and remind me how exhausting this was.)
This is Not the Book I Wanted to Write
Here's the truth behind Folly Cove: it was not the book I wanted to write.
I had given my editor the synopsis for a completely different novel, one I was in love with, but she didn't want it. That was discouraging, because I'd worked so hard on the synopsis.
To make matters worse, the editor said, "We want you to do another book about sisters. Preferably on a beach."
I'd already done that in two novels—Beach Plum Island and Chance Harbor—and couldn't imagine a fresh take on that.
Then, quite suddenly, a woman's voice began rolling through my head. She happened to have grown up in an historic inn—on a beach, with sisters!
Once I got going on Folly Cove, I realized it wasn't at all like the previous novels and had its own fascinating secrets for me to reveal.
A Surprising Favorite Character
When I wrote a scene from the mother's point of view, I realized that was the perspective I'd been missing all along.
She was cool, sometimes to the point of being harsh, but I wrote a scene in a hospital where I realized something crucial about her history that made me feel suddenly awash with sympathy for her.
She ended up being my favorite character in many ways.
Turn the Idea Over in Your Heart Until It Becomes Your Own
Writing this book taught me that you can take an idea and write about it, even if the idea isn't yours originally.
You just have to keep pushing, turning the idea over in your head and heart, until it becomes your own. I feel much more confident as a writer since finishing Folly Cove.
What's Next: Twin Plot Lines
I'm already about a third of the way through my next manuscript, and it's a slight departure for me: this book has twin plot lines, one contemporary, one historical, and both are written in the first person.
Fingers crossed that it all works out, but even if it doesn't, I'm having fun and learning as I go.
(Read more about Holly on her previous Writing and Wellness post.)
* * *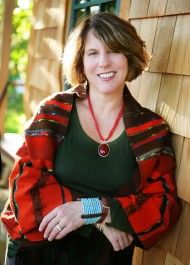 Novelist, journalist and celebrity ghost writer Holly Robinson is the author of several books, including The Gerbil farmer's Daughter: A Memoir and the novels The Wishing Hill, Beach Plum Island, Haven Lake, and Chance Harbor. Her newest novel, Folly Cove, will be published by Berkley Publishing Group/Penguin Random House in October 2016.
Holly's articles and essays appear frequently in publications such as Cognoscenti, The Huffington Post, More, Parents, Redbook and dozens of other newspapers and magazines. She and her husband have five children and a stubborn Pekingese. They divide their time between Massachusetts and Prince Edward Island, and are crazy enough to be fixing up old houses one shingle at a time in both places.
Find more information about Holly on her website, or connect with her on Facebook or Twitter.
---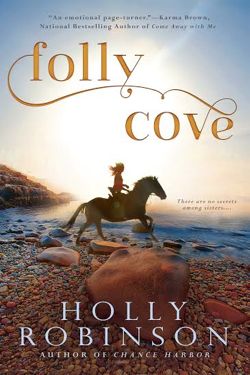 Folly Cove: The ties of family bind us forever—no matter how far we may go to escape them…
The Bradford sisters are famous in Rockport, Massachusetts: for their beauty, their singing voices, their legendary ancestors, and their elegant mother, Sarah, who has run the historic Folly Cove Inn alone ever since her husband disappeared.
The two youngest sisters, Anne and Elly, fled Folly Cove as soon as they could to pursue their dreams and escape the Bradford name, while Laura stayed and created a seemingly picture perfect life. After a series of bad decisions, Anne has no choice but to come home and face her critical mother and oldest sister, reluctantly followed by Elly, another Bradford woman who's hiding something.
As the three sisters plan a grand celebration for their mother's birthday, they struggle to maintain the illusions about their lives that they've so carefully crafted. But when painful old wounds reopen and startling family secrets are revealed, they soon discover that even the seemingly unbreakable bonds of sisterhood can be tested…
Available at Amazon.
Tags: Folly Cove, Holly Robinson, novel writing, point of view, writing tips