The biggest physical challenge of being a writer is
tearing myself away from my story to exercise.
Right now, I'm also dealing with sciatica, so I'm not exercising like I usually do. The sciatica pain is due to an old injury that has reared its ugly head again.
Right now, I'm just walking a couple of miles a day until my sciatica pain disappears. I finally made an appointment with the doctor because this occurrence has lasted longer than normal. I'm hoping we'll find a permanent fix.
It's a Writer's Challenge Trying to Balance It All
I would have to say my biggest challenge is trying to balance it all.
I want to focus on my writing, but I have to take time out for my family and promotion. It can be challenging to juggle it all.
I've coped with this challenge by setting realistic daily writing goals. I've also created a marketing plan that's very flexible, so I can work things around my family.
It's important to me to put my kids first, especially when they're at this young age.
My Publishing Journey Has Been Mostly Trial and Error
I haven't had a darkest moment, yet (knocks on wood).
I didn't know what to expect when I got my publishing contract, I was just so excited that I got a contract.
My publishing journey has mainly been trial and error. If one thing doesn't work, I stop and try something else.
I feel I've learned a lot and I'm excited to see where I can go from here.
Writing Gives Me a Sense of Purpose
I would say that the one thing that has kept me true to my path is my sense of purpose.
I feel reading offers so many benefits for our young people. It improves analytical skills, improves vocabulary, and is a great stress reliever.
Reading for pleasure is on the decline and I'd like to see that trend turn around. One thing that I can do to ensure that it does is write books teens want to read.
Advice for a Young Writer: Don't Give Up Hope
I would tell them that you have to put a lot of efforting in in the beginning, but don't give up hope.
I would tell them keep working on your craft and keep improving. They will be successful in the long run.
* * *
Lisa Orchard grew up loving books. She was hooked on books by the fifth grade and even wrote a few of her own. She knew she wanted to be a writer even then.
Her first published works are the "Super Spies Series." These stories revolve around a group of friends who form their own detective squad and the cases they solve. The Starlight Chronicles is the next series Lisa created with musical misfit, Lark Singer as her main character.
Lisa resides in Michigan with her husband, Steve, and two wonderful boys. Currently, she's working on the next book in the Starlight Chronicles Series along with a few new ideas that may turn into stand-alone novels. When she's not writing she enjoys spending time with her family, running, hiking, and reading.
For more about Lisa and her work, please see her website, or connect with her on Facebook and Twitter.
---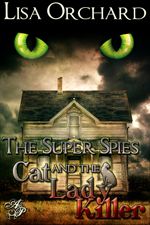 The Super Spies and the Cat Lady Killer: In a small town in Michigan, fifteen-year-old Sarah Cole is stuck spending the summer at her Aunt and Uncle's with her sister, Lacey. She's not happy with the situation until she befriends a girl named Jackie. The three girls stumble upon the ruthless murder of a reclusive neighborhood woman and what's worse? One of the officers investigating the crime believes the girls are responsible for her death.
Fearing that this officer will frame them for the murder, the girls organize their own detective squad the Super Spies. They can't understand why anyone would want to murder the "Cat Lady" until they start digging into her past and discover a horrible crime that happened thirty years ago. They uncover a connection between the two crimes and attempt to bring this information to the police, only to be reprimanded for meddling in the investigation. Not only are the girls upset by the admonition, but they also struggle with the fact that their exuberant investigating could provide a legal loophole allowing the killer to go free. Frustrated by this turn of events, the Super Spies realize it's up to them to snare the Cat Lady killer.
Available at Amazon and Barnes & Noble.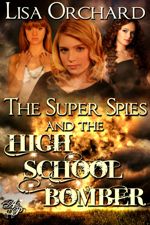 The Super Spies and the High School Bomber: This book opens in a small town in Michigan where Sarah Cole and her sister Lacey are now living with their Aunt and Uncle. Still reeling from the fact her parents have disappeared, Sarah starts the school year with her new friend Jackie Jenkins.
When Sarah learns the school has been bombed, she's filled with dread. Uncle Walt is a teacher, and he was in the school when the bomb exploded. Taking matters into her own hands, Sarah decides to search for him. The rest of the Super Spies are right behind her. When a fireman chases them away from the school, Sarah becomes suspicious, and soon realizes this bombing could have even bigger implications. Searching for the bombers, she fears that the bombing and her parents' disappearance are connected and terrorists are involved. To make matters worse, the bombers are determined to finish the job. Can the Super Spies find the bombers before it's too late?
Available at Amazon and Barnes & Noble.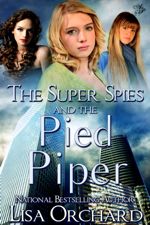 The Super Spies and the Pied Piper: Sarah Cole and her sister Lacey are at it once again when they learn their missing parents' cell phone has been traced to Alden, Michigan. When the FBI declines to continue the investigation, Sarah takes matters into her own hands. She calls upon the Super Spies and they delve into the situation. Suddenly, the teens find themselves immersed in small town intrigue and mystery involving a menacing stranger, who Sarah dubs "The Stalker."
But when Sarah learns he's connected to her parents' disappearance, she's determined to find out what that connection is. The Super Spies embark on a journey that leads them into a web of corporate corruption at its highest level that leaves innocent victims in its wake. Can they find the proof they need to stop the greedy corporation before it's too late?
Available at Amazon and Barnes & Noble.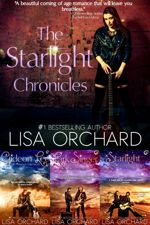 The Starlight Chronicles: Lark Singer is seventeen years old and already on the way to a brilliant music career. But as she and her band, Starlight, gear up for a competition, life seems to be throwing her a few curve balls.
The mysteries of her past seem to be unraveling, and she's no longer certain she wants to know those answers or how knowing about her past will affect her difficult relationship with her mother. And when her best friend, Bean, changes things between them, all her plans for a musical future are placed in jeopardy. How can she balance her complicated personal life to keep her musical goals on track?
BOX SET CONTAINS ALL THREE BOOKS IN THE STARLIGHT SERIES:
Gideon Lee
Lark Singer
Starlight
Available at Amazon.
Tags: Lisa Orchard, publishing, sciatica, teen fiction, YA fiction