When you become a writer, there's a lot that other writers don't tell you.
There's your newfound coffee addiction, back pain from sitting in that computer chair all day, anxiety, weight gain, eyestrain, headaches, and much more.
Being an author is supposed to be some magical profession, that when you make it, you make it, but I for one did not expect the physical challenges that presented themselves.
I Don't Believe in Diets Anymore
Lack of exercise and weight gain was the biggest change.
I spent so much time in a chair that I hardly even realized what was happening to my body. I lost muscle mass, gained a lot of weight, and struggled with the munchies.
But once I came to terms with the fact that there was a problem, I set to fixing it. For the last couple of months I changed the things I eat completely. I don't believe in diets anymore—I really don't—so what I proposed to my partner was a lifestyle change.
Instead of having pasta, we created a chicken broccoli alfredo (replacing all the pasta with broccoli: it is WAY better than it sounds). Instead of having potatoes, we have salad; instead of chocolate for dessert, I have fresh fruit in my fridge at all times, and I also discovered my love for unsweetened applesauce.
Given a few weeks, my taste buds did a 360! Anytime I even try to eat yogurt anymore, it is WAY too sweet for me, and that's coming from a reformed chocoholic. Changing is tough, but it is SO worth it! My last 30 pounds is proof!
The Symptoms of Being a Writer—They Suck
With the physical changes, unfortunately, comes the emotional or mental as well. Depression at being constantly rejected, anxiety that you'll never make it, self-doubt, isolation—those are just a few common symptoms of being a writer.
To be honest, they suck. They really do.
I've personally struggled with depression and anxiety since my teenage years, and having all the doubt, stress, and anxiety dumped on me when I decided to become a writer, was NOT helping. So I got help.
Seeing your doctor is the BEST thing you can do if you are feeling helpless.
Writers, Take Care of Your Mental Health!
My darkest moment came in November 2014. I would cry at the smallest things. I had constant anxiety, panic attacks, and I isolated myself from people as much as I could.
I hated going to work, I was eating total garbage, I wasn't getting enough sleep, and when I was, it was 13+ hours at a time. When I discussed how I was feeling with my doctor, he informed me that I have an anxiety disorder.
We tried a few things, taking a break from work, medication, schedule changes, and things got better.
Take care of your mental health. As much as your physical health is important, your mental health is too. You wouldn't tell a person with a broken leg to suck it up, so why live with depression, or anxiety when you should take some time for you?
Take care of you, because this is the only body, and brain you'll ever have.
I've Never Been Happier Than When I Finish a Book
The hardest part of being a writer is all of these things.
It's the physical and mental changes; it's the isolation, the back pain, and the crippling self-doubt.
But being a writer is also amazing. I've never been happier than when I finish a book. So much work goes into a final product, but that product is yours. You did that, no one else.
All the stories and characters in my brain have kept me on this path to self-acceptance, self-love, and given me a desire to write.
So be proud of yourself. Everything in life is hard, but that's what makes it worth doing.
* * *
Katherine Bogle's debut young adult novel, Haven, came in second in the World's Best Story contest 2015. She currently resides in Saint John, New Brunswick with her partner in crime, and a plethora of cats. For more information on her and her work, please see her website, or connect with her on Facebook, Twitter, Instagram, YouTube, and Goodreads.
---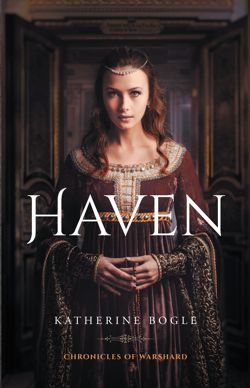 Haven: Princess Haven was never meant to be Queen.
Her immortality has saved her time and time again, but when the last of her royal family dies at her feet, she is next in line to rule a nation on the brink of war. With no formal training on how to be Queen, Haven must rise to the occasion with the help of her best friends, and personal guard, or risk losing everyone she has ever loved.
With war to the West, and no escape to the East, the evil tyrant Kadia sets her sights on the six kingdoms. Haven's neighbors are quick to fall under the swords of Kadia's shadow soldiers, leaving a sea of bodies and a clear path to Haven's only home.
Haven must make a choice; take her people and flee to the foreign Republic across the sea or lead a last stand against a powerful dictator.
Available at Amazon.
Tags: fantasy, Katherine Bogle, self-doubt, writers depression, writers diets