by K. K. Allen

Inspiration for me usually comes in the form of nature and art, which is probably why my favorite place to write is outside, or looking out my second story window.
Up in the Treehouse, in particular, was actually inspired by a storyline in The Descendants (Book 3 of The Summer Solstice Series). When writing about the treehouse in The Descendants, I was creating a special place where childhood innocence prevails over all the evil we begin to see in the world.
We can all probably look back and remember where that special place was for us. For me, it was the roof right outside my bedroom. I'd pop off the screen, climb onto the rigid shingles, and write for hours. I'll never forget being up on that roof, feeling invincible; like I had claimed a small piece of the world. I was free to roam and dream without restrictions.
Can Childhood Friendship Survive the Turbulence of Life?
The story behind Up in the Treehouse started with that same idea, but also; what cements a friendship at such a young age and how does that friendship survive the turbulence of life?
As we grow up, there are so many conflicts that arise, due to personality changes, peer pressure . . . hormones! Truth be told, it's rare we hold onto the same friends our whole lives, especially those of the opposite sex.
Up in the Treehouse answers this question for childhood friends who find themselves wrapped up in emotions that they aren't quite sure how to deal with: Can deep-rooted connections survive the destruction of innocence?
What's Absolutely Necessary to Tell?
Sometimes when I brainstorm new book ideas, I only have a short list of bullet points that I latch onto.
For this one—it all started with a treehouse, romance, and a childhood friendship. It quickly branched off in multiple directions to include art, bullying, and loss.
That's what happens when I get to know my characters because my characters are always complex the deeper I dig into them—some of which you see, and some of which is just implied. I had to dig especially deep with this one, and I struggled with how much I wanted to actually explain.
When I'm creating a story, I not only think about the characters I'm writing about, but of my main character's lineage, and why these people are the way they are. For example, how much of the parent's influence should be illuminated?
This became a big discussion between one of my Up in the Treehouse Beta readers and me. In the end, it's important to figure out what's absolutely necessary to tell, and what can be left up to your reader's interpretation without becoming distracting.
Stop Thinking About Genre, and Just Write
I'll be completely honest with my answer here: Sex [was the biggest challenge in writing the book].
My young adult series is popular because it's a clean read with some healthy romance. I worried about crossing into a more adult genre.
I tossed and turned about the subject of sex. Of what genre I should be writing this for. I debated between fade-to-black sex scenes versus something a bit more, dare I say, descriptive.
At one point during the writing process, I decided to stop thinking about genre, and just write, promising myself I'd come up with the genre when I finished. That helped me get over my little hump.
Up in the Treehouse is all about deep connections, loss of innocence, and "all the feels" as they say. Showing the romance was important to give the best balance to the story and it ended up falling under the New Adult Contemporary Fantasy genre.
Novel Writing Can Be Draining
Most people don't think about writing novels as draining, but it definitely can be, especially when you write something as layered as Up in the Treehouse.
It's important to me that while I'm "telling" a story, my readers are able to conjure up their own emotions and interpretations.
But the biggest writing challenge I faced with this novel, was making conflict believable. I like to throw some teeny-tiny breadcrumbs into my stories that all lead to surprising twists; things that will make my readers want to go back to the beginning and read my books again.
It can be difficult to do this sort of thing without tipping off your readers and distracting them. But, based on early responses, I pulled it off!
I Always Learn Something New with Every Book I Publish
Up in the Treehouse is definitely my strongest piece of work so far.
I strayed from my comfort zone, wrote an entirely new genre of material, and I'm having to completely start from scratch in my marketing because this genre of readers is not the same as Summer Solstice. It's all stressful! And fulfilling!
I always learn something new about my writing with every book I publish, and there's a drastic difference from my first novel to this one. That's a great thing!
It's also frustrating, because I want to go back and rewrite everything I've ever written. I'll probably want to go back and rewrite this interview after it's published!
Putting Into Words What We Can't Express Out Loud
I absolutely know that writing is healing for me.
It's the best kind of escape, and not the bad kind. I'm not trying to get away from my problems. Well, sometimes it's a great escape from that, but most of the time, writing is my way of putting into words things I have difficulty expressing out loud.
I get to deep-dive into my characters' minds and humanize their reactions and interactions—something that in reality, we (most of us) don't do very well.
Exploring New Challenges Ahead
I'm already plotting out a spin-off book to Up in the Treehouse. It will have nothing to do with a treehouse, but it will definitely have romance, art, and sports.
Early readers love a certain supporting character and I think she'll make a superb leading lady. I'm excited to start writing it.
At the same time, this will be another challenge for me, because this couple will have an entirely different dynamic with each other than Chloe and Gavin do in Up in the Treehouse. While Up in the Treehouse has comedic elements, this spin-off will be playful with quick-witted dialogue.
I tend to minimize my dialogue and focus on internal thoughts, expressions, and body language as a whole. This makes for new challenges ahead, and I'm very excited to explore them.
* * *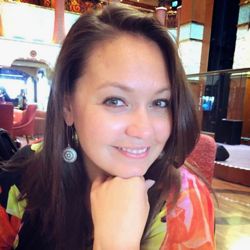 K.K. Allen is the author of Contemporary Fantasy and New Adult Romance stories. She loves manatees, learned to swim for the mere purpose of pretending she was a mermaid, and adores the beach so much she promises to one day live on one (in a tent if she has to) in Hawaii and serve shaved ice on the side of the road. K.K.'s Summer Solstice series (The Summer Solstice Enchanted, The Equinox, and The Descendants) is now available for individual sale or as a complete trilogy! Her short story, Soaring, is available for FREE. K.K.'s upcoming New Adult Romance, Up in the Treehouse, is set to release on July 19, 2016.
For more information on K. K. and her work, please see her website, or connect with her on Facebook, Twitter, and Goodreads.
---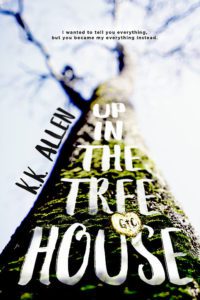 Up in the Treehouse: Chloe Rivers never thought she would keep secrets from her best friend. Then again, she never imagined she would fall in love with him either. When she finally reveals her feelings, rejection shatters her, rendering her vulnerable and sending her straight into the destructive arms of the wrong guy.
Gavin Rhodes never saw the betrayal coming. It crushes him. Chloe has always been his forbidden fantasy—sweet, tempting, and beautiful. But when the opportunity finally presents itself, he makes the biggest mistake of all and denies her.
Now it's too late . . .
Four years after a devastating tragedy, Chloe and Gavin find themselves crashing back into each other's lives. Haunted by the past, they're forced to come to terms with all that has transpired to find the peace they deserve. Except they can't seem to get near each other without combatting an intense emotional connection that brings them right back to where it all started . . . their childhood treehouse.
Chloe still holds her secrets close, but this time she isn't the only one with something to hide. Can their deep-rooted connection survive the destruction of innocence? Available at Amazon.

Tags: K. K. Allen, new adult novel, novel writing, the writing life, writing challenges, writing sex scenes, young adult novel