by Laura Drake

I've always known I'd write this story.
It just took twenty years for me to believe that I was a good enough.
See, it's a sister-story, dedicated to my younger sister who I lost to cancer at the age of 32. We had a special bond, and though the story isn't autobiographical in the least, the bond between the sisters is ours.
Grieving on the Page
Maybe because I waited so long to write it, subconsciously I must have been ready, because the story poured out of me in ways that surprised me.
I didn't have the usual boggy middle, or the plotting issues I usually run into. And believe me, that part was wonderful!
In writing the bond between the two characters, I had to tap back into the bond my sister and I had. Though she's been gone for over twenty-five years, it brought into sharp focus the hole that is still in my life where she used to be.
I grieved her loss all over again. I never had any doubt that I'd finish—I had to write this book. But it was hard. Even the good parts; I wrote a scene where the two sisters hear one of their mother's favorite songs on the radio, and they dance in the kitchen together—it's not inherently a sad scene, but it tore me up.
Who Am I Without My Sister?
The younger sister in the book had a mental breakdown, and had to be institutionalized following a suicide attempt. The older sister, who had been responsible for her sister's care her entire life, had to leave her with medical professionals, and travel to earn money for her care.
It made the older sister question who she was without her sister, and not really know how to go forward without her. It was wrenching to write.
Rewriting the End of the Story to be Happy
To be able to write the two sisters a realistic, yet upbeat and satisfying ending really was self-soothing.
As if I were rewriting the ending of my own story.
I know, it sounds crazy, but . . . you know writers are crazy, right?
Writing Helped Me Learn to Let Go
Have you heard the quote that you write to find out what you think? It was like that.
Because she was my baby sister, and she'd always looked up to me for answers, when she got sick, I felt like there had to be something I could to fix it. It sounds silly to say it, but I felt that I somehow let her down.
At the end of the book, the older sister learned that there were things that weren't hers to fix.
In writing this book, I realized that sometimes to help someone, you have to let them go. Allow them go their own way, and just love them. And that's enough. I didn't even realize consciously that I hadn't let go completely. This book helped me do that.
Some readers have written me that the read was cathartic for them, as well. That's my goal with all my writing—to help someone who is in a bad place.
Writing Helps Me Figure Out How I Fit Into the World
Oh yes, [writing is a spiritual practice for me]. With every book, something clicks in me; as if a puzzle piece falls into place.
Writing helps me learn more about the world, and how I fit into it.
The brain is such a complex thing, and so much more is cooking under the surface than we're aware of at any given time. It's endlessly fascinating to me.
I am so grateful to have found what I was meant to do.
Tackling Another Tough Subject
[What's next?]
Another tough subject (hmmm, a theme here? 😉
I'm writing a hard hitting, Jodi Picoult-esque novel about the right to die. It will challenge my knowledge, emotions and my beliefs.
And, I hope, the readers'.
(Read more about Laura on her previous Writing and Wellness post.)
* * *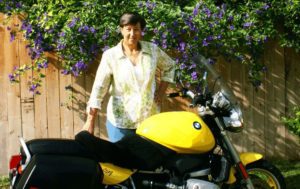 Laura Drake is a city girl who never grew out of her tomboy ways, or a serious cowboy crush. She writes both Women's Fiction and Romance. She sold her Sweet on a Cowboy series, romances set in the world of professional bull riding, to Grand Central. The first book in the series, The Sweet Spot, won the 2014 Romance Writers of America® RITA® award in the Best First Book category.
Her "biker-chick"' novel, Her Road Home, sold to Harlequin's Superromance line (August, 2013) and has expanded to a small town series. The Reasons to Stay released August, 2014.
In 2014, Laura realized a lifelong dream of becoming a Texan and is currently working on her accent. She gave up the corporate CFO gig to write full time. She's a wife, grandmother, and motorcycle chick in the remaining waking hours.
For more information on Laura, please see her website, visit her blog (Writers in the Storm, which she shares with other writers),  or connect on Facebook and Twitter.
---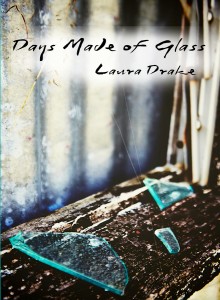 Days Made of Glass: Harlie Cooper raised her sister, Angel, even before their mother died. When their guardian is killed in a fire, rather than be separated by Social Services, they run. Life off the grid in L.A. isn't easy, but worse, there's something wrong with Angel.
Harlie walks in to find their apartment scattered with shattered and glass and Angel, a bloody rag doll in a corner. The doctor orders institutionalization in a state facility. Harlie's not leaving her sister in that human warehouse. But something better takes money. Lots of it.
When a rep from the Pro Bull Riding Circuit suggests she train as a bullfighter, rescuing downed cowboys from their rampaging charges, she can't let the fact that she'd be the first woman to attempt this stop her. Angel is depending on her.
It's not just the danger and taking on a man's career that challenges Harlie. She must learn to trust—her partner and herself, and learn to let go of what's not hers to save.
A story of family and friendship, trust and truth. Available at Amazon.
Tags: Laura Drake, novel challenges, novel writing, writing about loss, writing cathartic