by Sydney Scrogham
I wrote this story as a way to do an emotional cleanse after a bad breakup.
It was easy to me to pursue because as I wrote, my emotional health increased. It was like I could breathe again.
For some reason, Ariel: The First Guardian was the easiest story ever to write. But the biggest challenge was definitely facing my own heart pain in the middle of the story through Ariel's character.
It was also really hard to write a romance at a time when I really didn't believe in the magic of romance.
The biggest emotional challenge was definitely facing the pain of rejection. Putting Ariel into those situations allowed me an opportunity to find truth and healing in my own life, but some days it was really hard to get to that point.
Through Writing, I Uproot Lies and Find Truth
[Writing this book] allowed me to forgive and showed me that sometimes the best stories come from the deepest pain.
In some ways, I'm also left with whiplash and a sense of doubt wondering if I can ever write something this powerful again.
Writing is 100% the way I uproot lies in my own life and find truth. I'll put my characters into similar situations that I went through, give them a dark moment that I struggled with, and though they are separate from me, we're also very similar.
As they find healing, I find healing.
The Biggest Triumph—Finding that Happy Ending
Tying up the happy ending that I wanted in my real life but didn't get was so powerful for me.
I think that's why people read books. They find strength in the stories they want to live but maybe can't, and it allows them to hope for something better.
And the second biggest triumph was when my beta readers read it in less than 24 hours and laughed and cried with Ariel. That's the kind of story I want to write—something that moves people, and Ariel: The First Guardian really does that, even for me.
What's Next? The Struggle to Follow Up that Powerful Experience
Well, as I said, that doubt about writing a good story again is really hitting hard with the next one.
I'm on the third draft and am struggling with it still.
Ariel: The First Guardian was one of those few where the first draft comes out gorgeous, so writing my third book is definitely a bit daunting at this point.
Will it happen? Yes, but I'm wrestling to get it there. Possibly because that one also has a strong forgiveness theme…
(Read more about Sydney on her previous Writing and Wellness post.)
* * *
Sydney Scrogham has been a horse owner writing novels on the side for the past ten years. She actively writes for Flash! Friday and Porsche Club of America e-Break News. When she isn't writing, she can be found at the barn with her horse, Snowdy. Apart from Snowdy, Sydney's inspiration for writing includes spending time with God, watching ABC's Castle or Marvel movies, Breyer model horses, Bionicle Legos, and taking long walks in the middle of nowhere.  Sydney's driving passion is to see people revive and chase after their dreams.
For more information on Sydney and her work, please see her website, and connect with her on Twitter, Facebook, Pinterest, Instagram, and WattPad.
---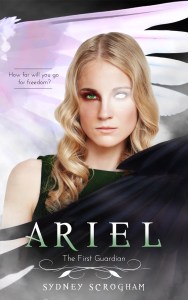 Arial: The First Guardian: Abuse survivor Ariel Harte doesn't need anyone. Ever. But her companion animal is infected with a dark, magical force. Only an ancient purification ritual, the mind link, performed with another human can cure this infection.
Ariel must ask her ex-boyfriend, Ryan Tracey, for help.
But she's racing time. She's infected, too. All the walls will have to come down so Ariel can heal or she will lose herself to the darkness forever.
Available at Amazon.
Tags: fantasy, novel writing, Sydney Scrogham, writing from pain, writing to heal