I knew early on that I wanted to write mysteries,
but didn't begin until my two kids were in daycare and I found a little time.
We had a connection to the Atlantic City Race Course, so I cooked up a mystery plot and set out to interview people doing nearly every job involved with thoroughbred horse racing. What I didn't expect was a nervous stomach, which resembled the flu, caused by my own timidity.
I also found that my interviewees weren't taking me seriously—and never would until I took myself seriously. Huge difference. It took a while, but I "outgrew" the stomach problem.
I Learned that Rejection Was Never Personal
As I progressed through my "apprenticeship," I learned that rejection was never personal, that "No" really meant "No, thanks," or "Not this time," or "I just bought something similar."
Specific criticism was meant to instruct me, and I made sure not to repeat those mistakes.
Like a cactus storing up rain I survived on whatever encouragement came my way.
Success Can Be Stressful, Too
My biggest emotional challenge was a convergence of bad news that came after I finished my contracts with St. Martin's Press and parted with my second agent.
Success can be stressful, too.
One of my four editors had suggested that I try a "bigger" book (I'd been writing cozy mysteries). So, while I had a break from deadlines, I decided to challenge myself. Unfortunately, the self-imposed pressure turned what I'd always loved into joyless work; and I realized if I wasn't having fun, neither would a reader.
To fix that, I stopped what I was doing and wrote a whole book just for my own pleasure. Revived, I returned to my "bigger" project, What Doesn't Kill You, with a much better perspective.
Impatient at that point, I published it independently, and in 2015 it won an Honorable Mention for genre fiction from Writer's Digest.
Back Fatigue in My "Mouse Muscle"
I use an ergonomic keyboard and chair, plus a tilted footrest. Every day, I get back fatigue in what I call my "mouse muscle," and I use a rub called Topricin for that. I've had carpel tunnel surgery for my right hand and will soon be getting it for my left.
I stretch in the morning and regularly walk the dog in a nearby park or use a treadmill. I probably should do more but I begrudge the time.
Advice for a Young Writer: Quality Control Begins at Home
My advice for a young person with artistic ambitions? Quality control begins at home.
Behave like a professional. Accept the rollercoaster ups and downs as normal; your downturns will be shorter as a result.
Pay it forward whenever you can. I wish you joy in the work and satisfaction in the knowledge that only you can do it.
* * *
Donna Huston Murray's seven cozy mysteries (originally with St. Martin's Press) feature a woman much like herself, a headmaster's wife transplanted to an upscale neighborhood by her husband's job. Final Arrangements, set at Philadelphia's renowned International Flower Show, simultaneously achieved #1 on the Kindle-store Mystery list and #1 for Female Sleuths. The first in her new mystery/suspense series, What Doesn't Kill You, garnered Honorable Mention in the 2015 Writer's Digest Self-Published Book Awards.
At home, Donna assumes she can fix anything until proven wrong, calls trash-picking recycling, and—although she should know better by now—adores Irish setters.
Donna and husband, Hench, live in the greater Philadelphia, PA, area. They have two adult children.
To learn more about Donna and her work, please see her website, or connect with her on Twitter, Facebook, and LinkedIn. You can also sign up for her "Mystery Guest List" (email list with free book!) here.
---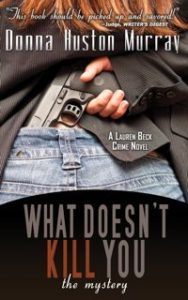 What Doesn't Kill You: Lauren Beck's friends, phone, home, credit and credibility are gone, severed with surgical precision by an enemy intent on framing her for murder. Is it one of the insureds she was hired to investigate? The fellow employee she upstaged?
Does the daughter of her landlady and dear friend, Corinne Wilder, hate her even more than she thought?
Whoever targeted her should beware. A former cop who survived cancer knows how to fight for her life.
Available at Amazon.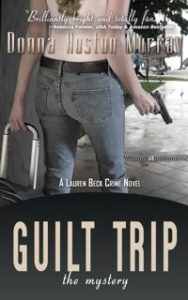 Guilt Trip: Stockholders send you death threats, and your son-in-law/Chief Financial Officer just committed suicide. Now something is off about the blonde hanging onto the deceased's remaining brother.
Allow her to attend the Caribbean funeral your daughter planned? Friends close/enemies closer. A nod, and ex-cop Lauren Beck is in. Big mistake.
Available at Amazon.
Ginger Barnes Main Line Mysteries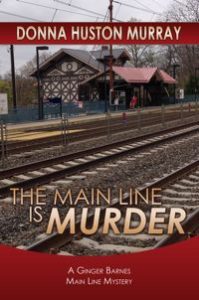 The Main Line is Murder: When her husband becomes head of a school on Philadelphia's tony Main Line, Ginger Barnes learns that small private schools need volunteers like the national debt needs taxes.
She also learns that murder on the campus can kill the school's reputation in a heartbeat.
Gin's Mop Squad job allows her to investigate without arousing suspicion, but can she expose the murderer in time to save the school–and her family's new home–without exposing herself? If she succeeds, will her good deed go unpunished?
Available at Amazon.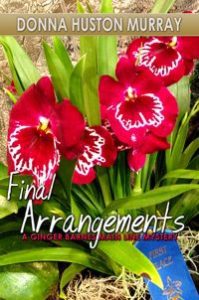 Final Arrangements: Fierce competitor Iffy Bigelow gets herself strangled at the world-famous Philadelphia Flower Show, and if she ever wants to hear the end of it, Ginger Barnes must dig through hundreds of suspects to unearth whoever killed her mother's dear old friend.
Available at Amazon.
Tags: back pain writers, cozy mysteries, Donna Huston Murray, writers rejection