The biggest physical challenge of being a writer? Sitting. Definitely sitting.
Spending endless hours in front of a computer screen is the first domino in a series of physical issues. Weight management, neck strain, eye strain, and aches all start with the necessary evil of showing up for work.
I swapped out my regular office chair for an ergonomic kneeling chair. Had I known that quasi-kneeling (think how a lazy Catholic kneels on Sunday morning after a rough Saturday night) at my desk was going to help, I would not have waited so long.
I adjust the chair's height multiple times a day to alter my neck and arm angles. What I love most is being able to lean as far back as possible and stare at the ceiling. This sounds nutty, but often, when I'm deep in thought, instead of remaining in a hunched position, I "reverse" the muscles I use. By leaning back, I engage my abs, release the strain in my shoulders, and open my chest.
I also keep weights by my feet and do curls. This is helpful, but is still not enough to compensate for the sheer number of hours I spend at my desk.
I Am the Engine Behind My Success
The relentless cycle of promotion is very difficult. I don't want to be the chest-thumping braggart who ballyhoos each scintilla of news like it's some world-shattering accomplishment. My audience would become desensitized and deaf to me like the little boy who cried wolf.
That said, I am keenly aware that I am the engine behind my success. No one will step in to fill the void if I stop, so I must balance a genuine enjoyment of social marketing engagement with the need of remaining relevant to my audience.
How Do You Balance Writing and Marketing?
I write fiction, so isolation is something I welcome. My characters inhabit my world and I'm able to hear their voices better when my world is uncluttered.
However, isolation becomes the enemy when partnered with the marketing that writers and artists must do to reach their audience. Writing and promotion use different muscles. I find it very hard to lift the fiction barbells after a sprint of marketing.
I try to dedicate blocks of time for outreach, then transition into the book. When writing is going well, marketing suffers and vice versa. It's very hard to find the right balance.
Oh, right…and I'm married and have a house filled with kids and their friends. I'll let you know when I figure out the perfect construction to my day.
I Turned Down A Traditional Publisher to Self-Publish My Own Books
I turned down a traditional, small-house publisher to independently publish my own books.
I know, crazy, right? What new author doesn't want the validation of someone wanting to publish you?
My decision was purely business driven. My career includes working with venture capital firms and entrepreneurial enterprises. Launching a book is much like starting a company and demands a similar set of broad-ranging skills.
With a doctorate in law and years spent in banking and finance, numbers and words don't scare me. The term kicked around now is "authorpreneur," and I fit that profile.
Publishers provide an average of three months of marketing push. After that, promotional effort falls on the author. Revenues, however, tilt in the publishers' favor. Not all authors make back their initial advance and the royalty percentage after that is puny.
My "business plan" for my author brand is to become known for writing tightly constructed, kick-ass thrillers, and this requires writing multiple books. My promotional push lasts far longer than three months–it's ongoing. I've earned more in sales of The Charity than the offered advance, and The Troubles is picking up steam.
Overall, I'm glad I went the independent route with regard to volume of books sold, royalties retained, etc.
Overcoming another person's ill-informed bias (or insecurity) is a daily occurrence. Some days I laugh, other days I grit my teeth and rant.
When My Faith Wavers, Readers Keep Me Going
I have readers who have reached out to me with the most heartfelt enthusiasm for my books. Their words of encouragement have often come in times when I've questioned my sanity for abandoning a "real" career and succumbing to a need to write.
When my faith in myself has wavered, these fans have kept me going. I have a deep desire to succeed and know I need to stay the course to reap the benefits of the foundation I've built. In a world where "overnight success" can take years of steady effort, these voices have kept me on focused on the long game.
Advice for a Young Writer: You'll Need Courage
I have visual artists and musicians in my family, so I have a lot of support. Allowing your life to be ruled by a creative drive is a gift to yourself that requires a tremendous amount of courage to pursue.
The hardest part is swimming against the tide of conformity. I worked in law and finance for twenty-five years before I started writing (although my "real" career included opportunities to write for Bloomberg/BusinessWeek and other magazines).
Only when I chucked my skirts and pumps for fleece and slippers did I discover how passion can be harnessed for creating a life. Be yourself. Go for it. Don't look back.
* * *
Connie Johnson Hambley grew up on a small dairy farm just north of New York City. When she was a child, an arsonist burned her family's barn to the ground. Memories from that experience grew the stories that have become The Charity and The Troubles.
Proving that truth can be stranger than fiction, her experience at a major bank in Boston introduced her to the clever schemes people dream up to launder money.
Hambley uses every bit of personal experience to create a story that is as believable as it is suspenseful. Leveraging her law and investment background in ways unique, creative, but not altogether logical, she has enjoyed robust professional pursuits that include writing for Bloomberg BusinessWeek, Massachusetts High Tech, and Nature Biotechnology. Find more about her and her work at her website, or connect with her on Twitter and Facebook.
---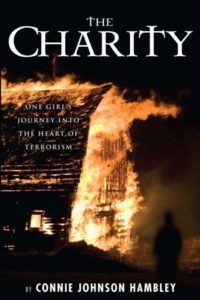 The Charity: In trying to clear her name of murder and regain her family's reputation, Jessica Wyeth's actions unwittingly threaten to expose the business behind the money of a U.S. based terrorist cell.
The process of building a new life around an assumed identity is derailed when she is recognized by the organization that destroyed her family. This time, instead of running away, she heads back to Boston, racing against time to find answers. Her search for the truth uncovers the cold reality that the Charity will stop at nothing to succeed in its mission.
Set in the rolling hills of Kentucky and the streets of Boston, The Charity exposes that Jessica is not the only one hidden in the daylight. Available at Amazon.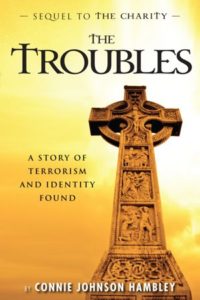 The Troubles: Jessica Wyeth refuses to be a fugitive hiding under assumed identities. Through sheer grit, she struggles to reclaim her life only to discover what she wants is an illusion. She is not the child of the picture-perfect New England family, but an unwanted castaway.
When Jessica rides in a world-class steeplechase, she is unwittingly used as an accomplice in a devastating bombing in an English shopping mall. The group behind the bombing is the Charity, a generations old support network of the IRA. Jessica's fight for her life leads her to uncover her mother's secrets and the divided soul of the Irelands.
The Troubles is a high-concept suspense novel that views the conflict in Northern Ireland through the prism of American involvement. This sweeping, multi-generational tale gives witness to the delicate and dangerous layers inside an ever-unfolding world. Available at Amazon.
Tags: Connie Johnson Hambley, kneeling chair, self-publishing, thriller writer, writing and marketing, writing and wellness