I started writing seriously around age 40, so I can't really blame all my aches, pains, and blurry eyes on the books.
Some of those things were going to happen whether I wrote or not.
Circle of life, middle-age spread, slow and steady pull of gravity on our bodies until we eventually crumble down into our graves… Ok, maybe that's a bit morbid.
I have three young children. They are the joy of my life, but I stopped working full time as a geologist for the U.S. Geological Survey when the first was born. My career before kids meant that I was always physically active, hiked, climbed, and was outside most of the time.
I did my best with babies in tow, but eventually realized that I was spending all my time caring for them and no time caring for myself. When the oldest started Kindergarten and the younger two were in preschool two mornings per week, I had a whopping 6 hours of complete freedom each week!
6 Hours a Week to Spend On Something I Loved
I knew I wanted to spend that time doing something I loved, instead of something I had to do, like the never-ending laundry, house chores, grocery shopping, or bill-paying. The story of Women's Work had been in my brain for a while, and I knew with certainty that I wanted to turn it into a novel.
As I would drop off all my kids, my heart rate would quicken, my eyes would sparkle, and my steps would lighten. I was so excited to sit down and write, for three hours straight, without any children around!
Writing became the emotional release and the mental stimulation I had been craving for all those baby years. It thrilled me to dive into Kate and Michael's world in Women's Work, to write about angst and struggle, and toil that was not my own.
It took my the entire school year to write the novel, and I loved every second of it. It didn't matter that I made my first visit to an optometrist during that time, that my right shoulder became achy, or that my butt got bigger. (I'm assuming that. As a general rule, I never look at my own butt).
It was the first time since becoming a mom that I was doing something only for ME. Myself. My soul.
I Zumba-ed My Butt Off for a Whole Year
During the year between the publication of Women's Work and the time I started writing RUN Ragged, I used my 6 hours each week to start exercising again.
Of course, there were a million other book related things I could do—I had the naïve idea that once you published your novel, it just sort of sold itself. So, there was a steep learning curve about blogs and reviewers and magazine articles that still threatened to take up all my free time, but I didn't want it to. I wanted to exercise.
It was so difficult. I tried running and, after 7 years of almost no physical activity, I overdid it right out of the gate and hurt my Achilles tendon. It was depressing! Here I had finally made the decision to start, and I had to stop to let myself heal. Stinks.
A woman at my daughter's school led a Zumba class and, though I didn't really know what that was, I agreed to try it. If you've ever seen commercials for Zumba, you'll know what it's like—good-looking women in sports bras all dancing beautifully to the choreography of upbeat, sexy Latin songs! Right?
Well, I dance more like an injured horse trying to get out of a flooding barn. But, everybody at the class was nice, so I stuck with it. I Zumba-ed my butt off for a whole year before sitting down to start my second novel, RUN Ragged.
Jealousy Stems from Self-Doubt
I feel like a terrible person even writing this part. I'm a strong woman who loves and encourages other strong women, and yet one of the biggest emotional challenges I've faced with RUN Ragged is jealousy.
After Women's Work had been out about a year and I'd started working on RUN Ragged, another woman I know wrote a children's book. It's about one hundred words. It got picked up by a big publisher. They want her to write a series.
On the surface, I really am happy for her. It's a lovely children's book and she is the NICEST person. But after being rejected by a few publishers and having spent so much of my time, money, and spirit promoting Women's Work all on my own, I felt like a complete loser because of her success.
Ugh. I hate that.
I know jealously usually stems from self-doubt, and this is certainly one of those cases.
Promoting a Book Makes You Miss That Lonely Writing Time
Writers pour so much of their heart and soul into a book, and get so much pleasure doing it. But all the post-publication work can be really stressful.
You have to put yourself out there and try to walk the fine line between annoying everyone you meet and actually promoting your stuff.
Perhaps I'm just not a salesperson. It's really difficult for me to tell anyone, "You are going to LOVE this book!" It's a novel. Different people like different things. I believe in my stories, but I'm just not very good at selling my books.
Writing can be a really lonely process, but promoting a book makes you miss all that lonely writing time. As a new author, I didn't have a support group of other authors to turn to for tips or advice. I had no idea how much work it would be to sell my books after I'd written them, and I didn't know which blogs, reviewers, services were actually helpful and which were a waste of money.
It takes me a year to write a book—a happy year full of creativity and excitement—and it takes me a year to promote a book—a nerve-wracking year of reaching out, being pro-active, trying to get people to notice me and my work, trying to be confident and optimistic even in the face of rejection.
Even Negative Feedback from Readers Can Be Rewarding
Feedback from readers has been so rewarding! I get an incredible amount of happiness when I read the reviews people write about Women's Work and RUN Ragged on Amazon, Goodreads, or via their eBook seller.
Even if the reader hated the book (there have been a couple), it feels so good to know someone is reading my stuff. Those who have a strongly negative opinion about one of the books actually make me just as happy as those who absolutely love it.
I'd rather get ten HATED IT! reviews than twenty MEH… reviews. My stories are provocative. They make you think. They challenge you. I love that.
I get to spend a lot of time talking with Book Clubs. This is like therapy for me. Women's Work and RUN Ragged are incredible stories about strong women stuck in terrible situations. Both books deal with issues of gender inequality, traditional gender roles and stereotypes, and relationships.
Book Clubs are the perfect venue for these books because a group of people (often women, but not always) will want to talk about them. So often, people will tell me these books made them think about things in a different way, or that the story stuck with them long after the last page.
I think a book that can do that is a good book, and I feel thankful and happy whenever a Book Club invites me to hang out or Skype with them.
What Frustrates Me: The Polarizing Way the Media Portrays Gender Issues
One of the things that frustrates me is seeing the polarizing way the media portrays gender issues.
It's the end of 2015 and we still have a panel of men on a "news show" discussing the reasons why women shouldn't wear leggings in public, reporters asking an all-women team of astronauts how they'll survive without makeup in space, and a massive gender gap in politics, film industry, STEM jobs, etc.
The idea that books like mine are still timely and pertinent in our society is very sad. The idea that the word "feminism" is hated by many men and women, shows that there has been a twisting and distortion of that word and the idea of equality itself.
I look forward to a day when my grandchildren or great-grandchildren look back on my books as a history lesson, instead of a scathing satire on our world today.
I Write Because I Really Believe in My Stories
The story of Women's Work came to me a few years ago. I'd heard a female member of Congress talking to Jon Stewart on the Daily Show about why there aren't more women elected officials.
She said something like, "If more women were in Congress, we'd be able to get things done." Of course, the audience cheered, but then the woman went on to say, "…Because women are better at compromise, better at talking things through without rushing to violence, and are better leaders."
Some audience members were still cheering, but you could see Jon Stewart's jaw drop, deeply offended.
How many times have you heard someone say, "Things would be so different if women ruled the world"? That notion really bothers me. As if, somehow women would magically  be better leaders JUST because they are women? I just don't believe that. My novels both explore that idea—that it doesn't matter if you are a man or a woman, if you are given too much power, you can be corrupted.
Women's Work fleshed itself out until I could imagine it running like a movie in my mind. I was thinking about it all the time, and was thrilled to finally sit down and start writing it.
I don't write to make a million dollars (thankfully, because that isn't happening any time soon…), I don't write to please anyone else. I write because my stories are ones that I couldn't find anywhere else, and I desperately wanted to read.
I write because I really believe in my stories, and really believe that there are people out there who will LOVE them.  
Advice for a Young Writer: Don't Write for the Money
It feels like it would be easier to get hit by lightning than become a "successful" author these days.
Everyone can write a book, everyone can self-publish any sort of drivel and call it a book. If you don't sell serious volume, you will never make any money.
So, don't write for the money. Write for yourself. Write because you fall into another world when you open your laptop—you plummet down into a hole filled with your characters and plots and twists and scenes and, hours later, when you finally come up for air, you are left breathless, thrilled, and satisfied.
Write, rewrite, hire editors and take their advice, then rewrite some more. Take your time. And enjoy the journey without worrying about the finish line.
* * *
Kari Aguila was the recipient of an IndieReader Discovery Award for her first novel, Women's Work. Her stories are gripping and thought-provoking looks at gender stereotypes and relationships set in a dystopic future. She is also an avid gardener, geologist, outdoor enthusiast and mother of three. Aguila lives in Seattle with her family. RUN Ragged is her second novel.
For more information on Kari and her work, please see her website, or connect with her on Facebook, Twitter, or Goodreads.
---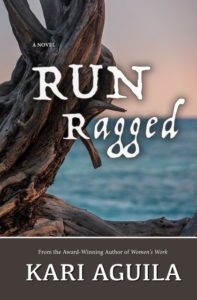 RUN Ragged: In a devastated country, those in charge rule by fear, inequality, and oppression. Rhia, a strong and independent sea captain, just wants to keep her head down and do her job, until she finds herself trapped in a re-education facility designed to help people fit into the rules of the New Way Forward.
The warden claims to be guiding those in her care, but Rhia quickly sees the cracks in the system. As she is faced with torture and brainwashing, those cracks become gaping holes that threaten to pull her down into the depths of despair.
Can Rhia resist the slow subversion of re-education and become the reluctant hero the new world needs? Available at Amazon.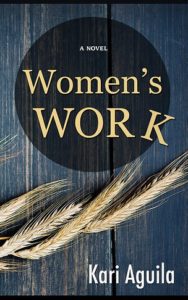 Women's Work: Kate and her young children have faced hunger and darkness in the aftermath of a devastating war, and now that they have finally started to feel like they might just survive from year to year, they are forced to deal with the new threat of raiders.
Surrounded by fear, rumors and uncertainty, Kate is cautiously trying to determine what society's new rules mean for her family while taking her own journey from anger to understanding. Kate is forced to undergo a most difficult change—the evolution of her deeply held beliefs. She represents everyone who has been hurt before, and now has to decide if she will open up her heart again.
Available at Amazon. Winner of the 2014 IndieReader Discovery Award.
Tags: author interview, gender equality, Kari Aguila, the writing life, Women's Work, writers and exercise