I would say the biggest challenge to being a writer for me is trying to avoid late night snacking.
I'm a night owl, so I write/work late into the night. When I'm done I tend to unwind in front of the television, catching up on shows I've saved on the DVR. Along with that I often indulge in snacks.
Recently I've begun trying to curb this habit, replacing snacks with something healthier, like a glass of ice-water.
The Benefits of an Actual Writing Desk
I used to write on a TV tray while sitting on our couch. It was unproductive because either I was chatting with my family or watching television.
Last weekend I finally got a desk! The difference in my productivity is amazing because I can totally focus on the task at hand, instead of what's going on around me.
Writers Have to Be Away from Their Families for Hours on End
I would say the hardest part of being a writer is how it requires me to be away from my family for hours on end. I love my husband and our 10-year-old twins, and really enjoy spending time with them.
I always tend to put myself and my writing as a low priority, so I'm often writing late into the night or scrambling to make a deadline.
I made a giant change while writing my last book—making and sticking to a planned and well-thought out schedule. I was consistent about tracking my daily progress, and making adjustments as needed.
Creating and sticking to a writing schedule ended up being worth it because I turned in my last book two days before deadline!
The Darkest Moment: When the Book was Ready, Nobody Wanted It
It took me thirteen (yes, you read that right, THIRTEEN) years to go from "Hey, I've got a great idea for a book!" to signing a contract with my publisher.
Most of that time was spent writing and then revising the manuscript, and then when I finally knew it was ready no one wanted it. I collected over sixty rejections before finally finding a publisher!
Now, I'm proud to say, my little book that nobody wanted has since gone on to win the 2014 RONE Award for Best American Historical and a 2014 Laramie Award.
Advice for a Young Writer: Never Ever EVER Give Up
Rejection is the worst. Knowing that someone out there took the time to read your book and then didn't like it hurts. No matter what kind words they add to the bottom of the rejection email, rejection still stings. Every time.
Never ever EVER give up on your dreams. If you keep trying, keep learning your craft, and never give up, you will succeed!
* * *
Christi Corbett, winner of the 2014 RONE Award for Best American Historical novel and a 2014 Laramie Award, lives in a small town in Oregon with her husband and their twin children. The home's location holds a special place in her writing life; it stands just six hundred feet from the original Applegate Trail and the view from her back door is a hill travelers looked upon years ago as they explored the Oregon Territory and beyond.
For more information on Christi and her work, please see her website and Amazon author page, or connect with her on Facebook, Twitter, and Pinterest.
---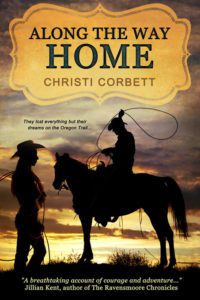 Along the Way Home: Life on the Oregon Trail is a battle of wills between Kate, a pampered society woman, and Jake, her rugged trail guide.
Then tragedy strikes, stranding them a thousand miles from home and in the midst of a treacherous land the United States doesn't yet own or govern.
Kate is left dependent upon the very man she despises and facing a choice—go back to everything she's ever known or toward everything she's ever wanted? Available on Amazon, Barnes & Noble, and Astraea Press.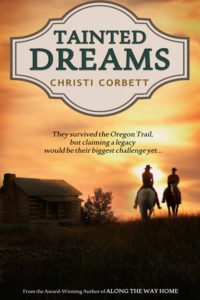 Tainted Dreams: Kate Davis arrived into Oregon City transformed from a pampered daughter of fortune into a determined woman with a plan—fulfill her father's dream of starting a horse ranch in Oregon Territory.
She quickly discovers a harsh truth—even thousands of miles from home, on an unsettled land America doesn't yet own or govern, gender still takes precedence over ability.
Refusing to be ruled once again by the stifling laws and societal norms she'd escaped by leaving Virginia, Kate begins creatively claiming what is rightfully hers. Until a visit to the land office changes everything. Available at Amazon and Barnes & Noble.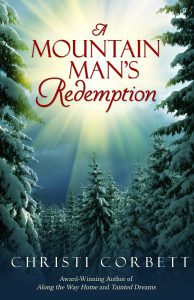 A Mountain Man's Redemption: An aging fur trapper, on his way to turn in his last bundle of furs, discovers a battered woman and her infant son, on the run from their ruthless abuser.
Seventy miles of snow-capped mountains and windswept flatlands stand between them and safety—the woman's aunt's house.
Can he trust in his newfound faith to lead the way? Available at Amazon.
Tags: Christi Corbett, Clean Reads, dealing with rejection, historical fiction, late-night snacking, the writing life