I have to admit straight up, I'm a sickly person and lazy as well, so writing to me is an ideal hobby / job.
I cannot say that writing has come with a physical challenge as such, if at all, there might be a lack of Vitamin D, as I often sit inside convincing myself (wrongly!) how much of a hassle it'd be to move my laptop outside.
I Never Look at the Screen for More than 30 Minutes
Once we got "wireless," I moved my laptop to my single-seater couch, which gives me back support and I have my legs up. Having children, I never look at the screen for more than 30 minutes. If they're not around, I make sure I don't.
It's About Writing Because I Love It
I've got a lot of challenges which range from motivation, self-doubt, stress, and isolation. But as long as there's still a publisher out there who's willing to publish my story, I'll keep on writing.
I love creating stories and happy endings, and when I have moments or days when the love is absent, I read. Challenges are here to be conquered, and I get better at these challenges with each day, month, and each book. It's about writing because I love it.
You First Have to Learn to Love Life
I believe I have a very balanced life. I have a day job, which most of the times I love, and some of the times I don't like that much at all. I've got a beautiful family which supports me all the way. Once a week, I present a German radio program, which challenges me in a completely different way.
I think to cope with all the challenges in life, you first have to learn to love life, and as Darius Rucker famously sings: "You've gotta live and learn, so you can learn to live." It's a great motto.
The Darkest Moment: When You Feel Like Saying, "You Don't Get It"
There's only a dark moment when you turn off the light.
Of course, there have been many, many moments when I would've love to give up, or scream, or something, but in the end, it comes back to me because I love writing.
Bad review? Of course it's upsetting, because, in all honesty, you feel like saying "you don't get it," but we all have different opinions and I have to accept that.
A week without having sold a single book? Depressing … but hey, appreciate the week you've sold heaps.
The lady who told me to stick to my day job because I suck at writing … take a couple of deep breaths, mentally flip her the finger, and move on.
After a couple of days, I was over her as well.
The One Thing That Keeps You On Your Path: My Characters

It's sounds bizarre, but it's the characters in my head.
Every time I go somewhere and hear something interesting, a story pops into my mind …. And another book's been born. I simply love it.
Advice for a Young Writer: Never Give Up

The hardest part for me is the promoting of the book. It is truly something I don't like.
But aside from that, I tell everyone to give it a go and never, ever give up, no matter what other people say. If your heart's in it, that's all you need to be successful!
* * *
Iris Blobel was born and raised in Germany and only immigrated to Australia in the late 1990s. Having had the travel bug most of her life, she spent quite some time living in Scotland, London, and Canada where she met her husband. Her love for putting her stories onto paper has only emerged recently, but now her laptop is a constant companion. Iris lives west of Melbourne with her husband and her two beautiful daughters. Next to her job at a private school, she also presents a German Program at the local Community Radio.
For more information on Iris and her writing, please see her website, or connect with her on Facebook, Twitter, or Goodreads.
---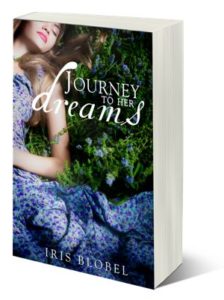 Journey to Her Dreams: Would you travel around the world to uncover the reason for your dreams? Hollie Anderson, a young woman from Tasmania, lives on a farm outside Launceston, Australia. She has good looks, likes her job, and loves to hang out with her friends. But it's a recurrent dream that throws her daily life into chaos and takes her on a journey to Ireland.
Sam Shaughnessy enjoys the success as Head of Advertising for a popular magazine in the Irish capital Dublin. Married to Padraic, she thinks she loves her husband, but when she meets Hollie under unusual circumstances, she needs to face the truth, and not just about her marriage.
When both women, so different in many ways, find out they have one thing in common, it changes their lives forever. Available at Amazon and Barnes & Noble.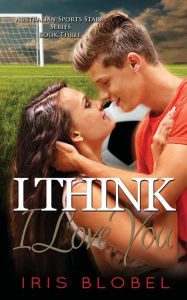 I Think I Love You: After three years away as the goalkeeper for an English soccer club, Markus has been happy to be back in Australia. He'd missed his family and friends, including Sarah.
When they attend their friends' wedding, a new light is cast on their friendship. Sarah is fresh out of a bad relationship, and Markus has always been the one she can confide in.
Following a passionate encounter, Markus isn't sure how to handle this new aspect of his relationship with Sarah, and literally flees the scene for the coast. Sarah is unsure how to react to his sudden departure, but is soon knocked off course by misunderstandings and a frightening family emergency.
Can Sarah and Markus face the fear and doubt—and the potential loss of their lifelong friendship—to give their love a chance? Available at Amazon and Barnes & Noble.
Tags: Iris Blobel, overcoming writing challenges, romance writer, the writing life