The great C.S. Lewis was quoted as saying: "You can't get a cup of tea big enough or a book long enough to suit me."
Turns out he wasn't the only writer who loved tea. Simone de Beavoir couldn't start the day without a cup of tea. The great German philosopher Immanuel Kant got up at 5:00 every morning and spent the next hour drinking tea and meditating. Stephen King told Rolling Stone that his wife and kids drink coffee, "But I don't. I like tea."
You'd be hard pressed to find a scene in any Jane Austen book that doesn't include tea. Jane's letters to her sister, Cassandra, confirmed that she, too, was a tea lover:
"I am sorry to hear that there has been a rise in tea. I do not mean to pay Twining till later in the day, when we may order a fresh supply."
Letter from Jane Austen to Cassandra, 6 March 1814
Friedrich Nietzsche worked like a madman, and used tea for fuel. According to his biography by Curtis Cate:
"Returning 'home' between four and five o'clock, he would immediately get back to work, sustaining himself on biscuits, peasant bread, honey (sent from Naumburg), fruit and pots of tea he brewed for himself in the little upstairs 'dining-room' next to his bedroom, until, worn out, he snuffed out the candle and went to bed around 11 p.m."
Addicted to Tea
My mom's side of the family is Irish, from way back.
You can tell, because there isn't a day that goes by that my parents don't sit down for a cup of tea, at least five times.
They're definitely addicted to the stuff.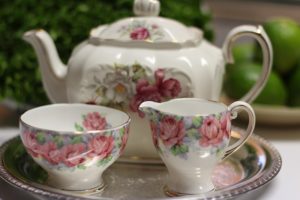 When I was growing up, tea either accompanied or followed just about every activity we did. After work or school, one sat down for a cup of tea.
On the weekends, a cup of tea followed morning chores, once all the animals were fed. Tea came after dinner, during the evening television show, and before bed. The stream of teacups went in and out of the dishwasher near continuously.
Anytime someone came over for a visit, we sat down for tea. When we traveled back to see my grandmother in New York, the first thing we did—even though we had spent nearly 48 hours in the car driving straight through from Colorado—was to sit down and have a cup of tea.
It didn't matter what time of day or night we arrived. Us kids sipped the cups our grandma had brewed for us with our eyes half closed, but we sat, and we had tea.
When I go home now to visit, the first thing we do, no matter when I get there, is gather around the kitchen table for tea. It's amazing to me that many of the cups I grew up with are still in the cupboards, waiting for the next serving. (They're hearty things!)
I used to wonder how my parents and other relatives could stand so much tea, but I've come to cherish the way it brings my family together, and how even when I'm not with them, I can sit down and have a cup of tea and feel the connection between us.
I've also discovered, through my nearly two decades as a health writer, that it's hard to find a beverage that's much better for you than tea.
Every time you have a cup of black, green, or white tea, you're getting a good serving of protective antioxidants that have shown in a number of studies to help prevent heart disease, cancer, Parkinson's disease, and Alzheimer's disease.
Herbal teas have other health benefits, including easing digestion, soothing nausea, boosting the immune system, and supporting liver function.
Tea can also take the place of a snack while you're working, and may even help you keep the extra pounds off in the process.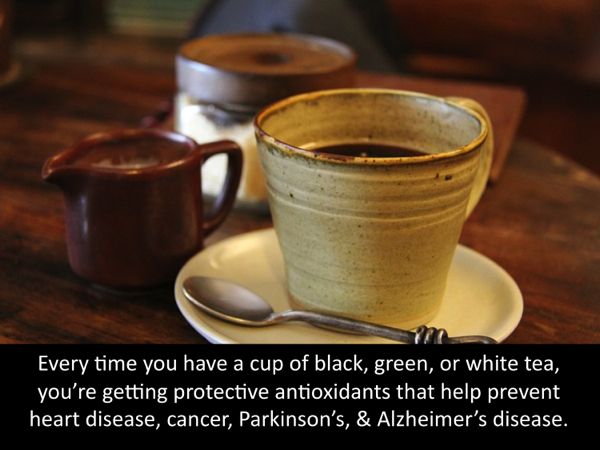 A Tea for a Writer's Every Mood
If you're a writer, why not follow in the masters' footsteps, and discover the magic of tea? Even if you're not a writer—or you're already a tea lover—you may be missing out on some of the benefits this versatile beverage has in store for you.
Turns out that for just about every occasion in a writer's life, there's a tea that fits right in—in many cases, a tea that makes everything feel just a little bit better.
I Just Got Another Rejection: You definitely need something to chase away the blues. Try saffron tea. It was used even in traditional times to boost mood, and modern science has supported its effectiveness. A 2004 study, for example, found that saffron tea lifted mood just as well as antidepressants (without the side effects).
I Have Brain Fog/Can't Create: It's morning and you have 30 minutes to work on your masterpiece, but your brain isn't cooperating. It's time for a cup of stimulating, brain-clearing tea. I love yerba mate tea for this purpose. It's got some caffeine that wakes me up, plus I just enjoy the taste. Turns out I'm not the only one—author Tim Ferris (The Four Hour Workweek) credits yerba mate with giving him the focus he needed to write his book. Even Charles Darwin called it the "perfect stimulant." If you don't want the caffeine, you can try rosemary. A 2012 study found that it helped participants perform better on speed and accuracy tests—you'll be typing like a mad person!
I Can't Sleep: Sleep is super important for a writer. We have so many things we have to keep up with—the writing, the marketing, the social media—that we can't afford to be sleepwalking through our days. If you're having trouble sleeping at night, try passionflower tea. A 2011 study found that participants who drank a cup before bed reported significantly improved sleep quality. There's also quite a bit of evidence that valerian tea helps people fall asleep faster and report more restful sleep periods. Lavender is another good one to try.
I Need to Wake Up: Many writers choose coffee to wake up, but there are some teas that will do the job just as well, or even better. Yerba mate, as mentioned above, is great for jumpstarting your brain. If you just need to get going, good old black tea may be the best choice. A 2011 study found that black tea enhanced alertness and also helped participants to enjoy improved visual and auditory attention. Many people also swear by lemon tea first thing in the morning not only to wake up, but to start the day with a sunny mood.
Before a Book Signing and I'm Nervous: It's time for some chamomile tea. What you want here is calm, and this tea delivers. In a 2009 study, researchers gave participants with generalized anxiety disorder chamomile tea or placebo for eight weeks. Those drinking the tea showed significant improvements in anxiety and well being. Animal studies have also shown that chamomile may relieve anxiety.
I Have a Lot to Accomplish Today: For all day alertness and attention, you can't get much better than good old green tea. It has a little bit of caffeine to keep you going without so much you get the jitters, so you can enjoy several cups throughout the day without worrying about overdoing it. The tea is easy on your digestive system, so you're unlikely to suffer any stomach upset. It also has an amino acid called "L-theanine" that works in the brain to help improve focus. A recent 2014 study found that green tea enhances cognitive function, particularly working memory.
I've Got a Cold and I Have to Work: A cold, sore throat, or even a stuffy nose from allergies can make it difficult to work. It's time to pull out the peppermint tea. It is a natural source of menthol, which helps break up congestion so you can breathe a little better. It's likely to make you more comfortable while writing or typing. We have some evidence that peppermint also helps ease the respiratory symptoms of allergies.
I Have the Munchies but I'm On a Diet: Some teas seem to have the ability to suppress the appetite. Fennel is one of them. I just tried my first cup of fennel tea the other night and I was pleasantly surprised at how satisfying and tasty it was. Ancient populations used it as an appetite suppressant during fasting days. A 2006 study found that participants who inhaled fennel seed essential oil consumed fewer calories than those who didn't. We need more studies to confirm this action, but it may be worth a try. Licorice root is also said to be good for calming cravings because of its sweet taste.
I'm Have a Q&A and I Have to Be On Top of It! Try a cup of sage tea before you start answering questions. Sage has a long reputation of helping to improve memory and attention. A 2008 study found that the herb helped volunteers perform significantly better on memory and attention tests. An earlier 2003 study found similar results, so drink up and let your rapid-fire brain impress them!
I Got the Contract—Time to Celebrate! Okay, it's time to indulge in your favorites. One of mine is Chocolate Pu-erh, a black tea that has a little cocoa powder in it. It feels like a treat every time I brew a cup. But you can choose any tea that feels indulgent to you. Dandelion root is another of my favorites—it has a sweet and hearty taste that feels like dessert. Other celebratory teas may include vanilla, orange, spice, or anything else that suits your fancy.
Keep in mind that I've only skimmed the surface, here. Many of these teas have other benefits in addition to the ones mentioned, and there are other teas that you could probably add to this list. (If you know of some, please add them to the comments below.)
The fun part is experimenting—finding which flavors you enjoy the most that also work for your various moods and needs.
Happy sipping!
Do you find tea helps you create, or soothes your mood on a bad day? Please share your thoughts.
---
Sources
Chris Robley, "The opposite writing habits of famous authors," BookBaby.com, February 11, 2015, http://blog.bookbaby.com/2015/02/opposite-writing-habits-famous-authors/.
"Immanuel Kant," Philosophers.UK, http://www.philosophers.co.uk/immanuel-kant.html.
Andy Greene, "Stephen King: The Rolling Stone Interview," Rolling Stone, October 31, 2014, http://www.rollingstone.com/culture/features/stephen-king-the-rolling-stone-interview-20141031.
"Jane Austen and the Drinking of Tea," Jane Austen Gift Shop, http://www.janeaustengiftshop.co.uk/blogs/articles/11458693-jane-austen-and-the-drinking-of-tea.
Akhondzadeh S, et al., "Comparison of Crocus sativus L. and imipramine in the treatment of mild to moderate depression: a pilot double-blind randomized trial [ISRCTN45683816]," BMC Complement Altern Med. 2004 Sep 2;4:12, http://www.ncbi.nlm.nih.gov/pubmed/15341662.
Scholey AB, et al., "An extract of Salvia (sage) with anticholinesterase properties improves memory and attention in healthy older volunteers," Psychopharmacology (Berl). 2008 May;198(1):127-39, http://www.ncbi.nlm.nih.gov/pubmed/18350281.
N.T.J Tildesley, et al., "Salvia lavandulaefolia (Spanish Sage) enhances memory in healthy young volunteers," Pharmacology Biochemistry and Behavior, Volume 75, Issue 3, June 2003, Pages 669–674, http://www.sciencedirect.com/science/article/pii/S0091305703001229.
Amsterdam JD, et al., "A randomized, double-blind, placebo-controlled trial of oral Matricaria recutita (chamomile) extract therapy for generalized anxiety disorder," J Clin Psychopharmacol. 2009 Aug;29(4):378-82, http://www.ncbi.nlm.nih.gov/pubmed/19593179.
Ngan A, Conduit R., "A double-blind, placebo-controlled investigation of the effects of Passiflora incarnata (passionflower) herbal tea on subjective sleep quality," Phytother Res. 2011 Aug;25(8):1153-9, http://www.ncbi.nlm.nih.gov/pubmed/21294203.
"German chamomile," University of Maryland Medical Center, http://umm.edu/health/medical/altmed/herb/german-chamomile.
Amanda L. Chan, "Rosemary Brain Benefit: Study Shows Link Between Herb Chemical And Brainpower," Huffington Post, February 27, 2012, http://www.huffingtonpost.com/2012/02/27/rosemary-brain-memory-18-cineole_n_1304250.html.
Adam Sinicki, "Yerba Mate for Focus and Creativity—My Review," The Bioneer, July 21, 2014, http://www.thebioneer.com/yerba-mate-focus-creativity-review/.
De Bruin EA, et al., "Black tea improves attention and self-reported alertness," Appetite. 2011 Apr;56(2):235-40, http://www.ncbi.nlm.nih.gov/pubmed/21172396.
André Schmidt, et al., "Green tea extract enhances parieto-frontal connectivity during working memory processing," Psychopharmacology, October 2014, Volume 231, Issue 19, pp 3879-3888, http://link.springer.com/article/10.1007%2Fs00213-014-3526-1.
Hur MH, et al., "[The effects of inhalation of essential oils on the body weight, food efficiency rate and serum leptin of growing SD rats]," Taehan Kanho Hakhoe Chi. 2006 Apr;36(2):236-43, http://www.ncbi.nlm.nih.gov/pubmed/16691041.
Tags: famous authors who drank tea, health benefits of tea, tea and creativity, writers and tea