A Writing for Change Featured Post
I recently received an announcement from one of my publishers, Jupiter Gardens Press, that they had published Sam's book, I Don't Dwell. I was inspired by his story and so happy he agreed to share his experience of writing it.
At the age of 6, Sam was hit by a van and nearly lost his life. Since then, he's been hospitalized several times due to suicidal tendencies as he struggled with bipolar disorder and later, multiple sclerosis.
Somewhere along the way, Sam experienced a profound shift of consciousness that resulted in a miraculous healing—one that his doctors couldn't explain. In a relatively short period of time, he was free of his ailments and disabilities.   
"When I was told I was 'incurable,'" he says, "I stopped living. I was always in a fearful mindset, wondering what else was going to go wrong. I felt like I wasn't worthy of life, which made me suicidal. I need to tell others that they aren't hopeless. If I can find peace, they can, too."
His passion today is helping others remove limiting "not good enough" beliefs.
What Inspired You to Tell Your Story?
My friends and family wanted to know how I transformed my life of disease and suffering to one of happiness and joy. The simple answer is that I re-wrote the mental stories in my head,  and took control of the inner dialogue .
Writing was a way to share my message to the world. I needed to tell others that suffering was optional if they could stop the limiting thoughts in their head.
What Were Your Thoughts As You Were Writing?
The hardest part was starting. I wrote the first chapter and I didn't like the direction so I scrapped it and started over. It took about a month to get a first chapter that I was content with.
After that, the words just flowed. The whole process provided clarity on how I sparked my "miracle." Once I had the draft done, I had some doubts about my skills as a writer.
I went to my first writers conference—"Conversations and Connections"—in Philadelphia. They had people available to read your work. Paul Lisicky [featured author] loved my project and he gave me many great suggestions. Based on that, I overhauled my manuscript,  and about 3-4 months later, I had a book contract.
How Did the Act of Writing Your Story Affect Your Life?
Writing and sharing my story had a profound effect on my life. This has provided a template for people to follow and others have transformed their lives as a result.
I decided to leave my corporate job of 20+ years to help humanity with their pain and suffering. I realize that I was given a divine gift to go from a disabled man to a healthy man.
The biggest surprise is that people find my story unbelievable and quickly discount it. They fail to realize that they are merely following a belief system that things have to be a certain way. The world is a mysterious place and we have to be mindful of any limiting belief systems.
There has to be a certain openness to life—we must not allow the cops in our heads to control our lives.
What Advice Would You Give Someone Who's Thinking About Writing Their Story?
Please share your story. It will benefit someone.
What Do You Hope Readers Will Take Away from Your Book?
I hope readers will realize they can look at life with awe and not take the stories in their head as the absolute truth.
* * *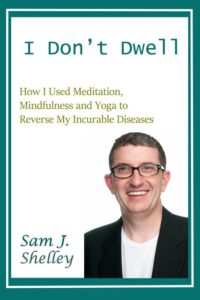 I Don't Dwell: Sam's life was filled with pain and suffering. At the age of 6, a van nearly took his life. As an adult, he was hospitalized several times due to suicidal tendencies as a bipolar, and later, because of a diagnosis of multiple sclerosis, which left him disabled. One day, his health was miraculously restored. His doctors couldn't explain it. He later learned that the medical community calls it a "spontaneous healing." Over the course of eighteen months, he made a full recovery from the traumas. Sam is no longer disabled, has no health issues, and no longer needs medicine. This is the story of his transformation, which began with a five minute daily practice. In this book he shares all the practices and tools that he used for recovery. Available from Amazon (also available as an e-book).
For more information about Sam, please see his website, or connect with him on Facebook and Twitter (@IMSamShelley).
Tags: I Don't Dwell, memoir, mindfulness, multiple sclerosis, Sam J. Shelley, spontaneous healing, writing for change