The greatest physical challenge to a writing career is the sedentary nature of writing.
We sit while word processing. We sit when we revise hard copy.
In warm weather, I ride my bicycle on our local riverfront trail. I'll admit, I need a "reward" to motivate me and often bike to the local coffee shop. I'll usually bring a few pages that need revision. What's better than a good cup of coffee, sunshine, and an outdoor patio? (Added benefit: People watching can provide interesting character traits.)
Rejection Can Be Traumatic
Rejection may be the hardest emotional aspect of writing. It can be discouraging and even traumatic. As writers, we put so much time and effort into our work that it's only natural we'd like some recognition. Unfortunately, rejections are a fact of life for a writer.
The Darkest Moment: Confusing Letters from Publishers
One of the darkest moments in my career came with my first book. Excited that the publisher wanted to see my entire manuscript, I was elated—and convinced they would publish it.
Then I received a letter in the mail: "We liked your story but don't feel it's quite there yet." What! What in the world did that mean? Tell me what I'm doing wrong, and l'll learn how to fix it. Give me some clue! But of course, publishers don't have the time or inclination to give a writer that kind of feedback.
After I picked myself off the carpet and dried my tears, I moved on. A writer friend—bless her—offered to read my manuscript and give me feedback. I learned so much. After revising my manuscript, I brazenly sent it back to the publisher, who did publish my first book.
With my second book, I went the traditional route and acquired fifty rejections. I had a choice to make—stuff my manuscript in the closet or indie publish. I published it and entered it the following year in a book contest. My novel received a finalist award, which was not only encouraging, but helped me proudly promote my indie novel.
A Word About Contests
Writing contests serve an important role, especially considering the monumental feat it is today to find a traditional publisher. Awards build your resume and may help land a publisher.
A few years back, I entered a short story contest. Familiar with the final judge's work, I figured my story would not appeal to her. I made myself enter the contest anyway. To my surprise, Pam Houston chose my story for the first place award.
Over the last few years, I've entered another contest four years in a row. Until this year, I never placed. This past spring, my story won second place.
My advice: work hard, never stop learning the craft, and don't give up!
Advice for a Young Writer: Commit to a Regular Writing Schedule
An often heard complaint of aspiring writers is they just can't find the time. Start a routine, whether it's ten minutes a day or half an hour three times a week. Set a schedule and find a time that works best for you.
Once you commit to a schedule, you'll be amazed how much writing you can accomplish. If you truly want to become a writer, find not only the time to write, but learn everything you can about the craft.
For me, writing has become my passion, something I cannot not do. I love the magic of well-chosen words, getting caught up in storytelling, and polishing my work until it shines. I will keep writing no matter what.
A writer must constantly hone her skill, actively participate in critique groups, and recognize that revision is the true act of writing. Though writing requires time, practice, and determination, the good news is the craft of writing can be learned.
* * *

A school librarian for twenty-one years, Lucinda Stein's love of books led to writing. She believes writing is a way to explore and navigate life. Her short stories have appeared in The South Dakota Review, Fine Lines, "Women Writing the West" online, and in the near future, Pooled Ink. Her novel, Three Threads Woven, was a 2010 WILLA finalist.
---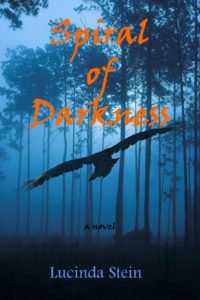 Spiral of Darkness: Grace Garnett is a Denver child psychologist who specializes in art therapy. She's drawn to a sleepy town in the mountains after her father's death. When the local school principal enlists Grace's help with a troubled student, the young boy leads the two women to a cult that threatens not only the boy's safety, but Grace's life as well. Worst of all, her father's accidental death is beginning to look like murder. Available at Amazon and Barnes & Noble.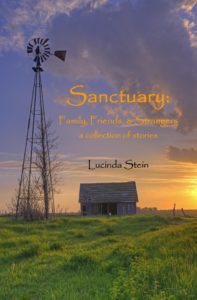 Sanctuary: Family, Friends, and Strangers: From LAURA Short Fiction Award winner comes a diverse collection of stories about women who struggle. From a runaway girl to a young woman with a lost career to a traditional woman of the 1880s who turns rogue, these tales range in time and place, but all tell the story of women overcoming adversity. Available at Amazon and Barnes & Noble.
Tags: dealing with rejection, Lucinda Stein, the writing life, writing contests