I have to sit in place for hours on end.
I don't mind sitting, but I have spondolothesis category 5, and my L4 to L5 lumber region of my spine is over 80% off track.
Most people with my condition elect surgery, but there is a 25% chance of paralysis.
I Choose to Ignore the Pain
I choose to ignore the pain.
The doctors have always told me that as long as I keep my weight under 150 pounds, I will be fine. So I literally have a number where if I weigh more than that, then I am in danger of surgery.
But to sit and focus, I do constantly have an urge to eat. I typically substitute green tea but that has caffeine in it. So it's a never ending cycle.
My husband is a runner. Grandma says he's too skinny and needs to eat, but he's totally into health. Before becoming a writer, I too took my health seriously. If I lose 5 more pounds I'd be at my prewriting weight, which is amazing.
Losing Weight by Getting Back to Basics
I lost 20 pounds for the [recent] wedding.
I did this by going back to basics. I drink two liters of water everyday. That's two of the big bottles of water that can be purchased almost everywhere.
Water is more important than people realize.
I also walk for an activity. I hate being inside on a machine. I like yoga, but no time. And for food, I still eat chocolate. But for dinner, I must eat my vegetables, too.
Self Doubts Are Normal
I've had well over 300 rejections. Growing up, my family had members with extreme depression and bipolar disorders. I don't want to be there.
Self doubts are normal. We all have the devil inside us that wants us to fail, but I tend not to listen.
The biggest emotional challenge for me is balancing everything. My day job has nonsensical office politics I run away from. I don't want to turn into an emotional wreck.
But the truth is when one of your parents has a bipolar disorder that can set off a rage at any moment, you grow up walking on egg shells.
I don't want to pass that on and what derails the writing goals is that I set the goal too high and then I fail. I'm good with daily goals. I can do small.
And no one's opinion truly matters in my life except my own, so I push ahead.
Mediation is great. Affirmations in the car while I drive are also great. I've probably read every self-help book. I don't recommend talking to friends too much, though. I'd be more depressed if I just shared my troubles with people who had no answers and just nodded at me.
Yoga is fun, music is great, walking is great. Writing in and of itself is a healer for me, too.
The Darkest Moment: How Do I Move Past It?
I'd prefer not to discuss [my darkest moment].
And no, it's not the editor who told me to my face that I'd never be a writer even though she had never read one word I wrote. And no, it's not the one rejection letter that crossed the line and was personally rude. (Out of hundreds, only one editor's email struck me that way.)
Read the contracts carefully and listen to your gut instincts. I didn't listen to mine as I should have.
How do I move past it? I don't let it stop me. I keep going and saying "everything will work out."
The One Thing That Has Kept You On Your Path
The realization that I'm not a crazy person with lots of different opinions on what to do about things! And that in writing, I discover a character's voice.
I don't know what else to do now, and that's funny. I hated English in high school. My family has never read my stuff. My husband doesn't want to read romance.
But I have to write. It's part of my identity.
Advice for a Young Writer
Self determination.
* * *

Victoria Pinder grew up in Irish Catholic Boston and then moved to Miami. She always wrote stories to entertain herself. Her parents are practical minded people demanding a job, but when she sat down to see what she enjoyed doing, writing was the obvious answer.
The Zoastra Affair, Chaperoning Paris, Borrowing the Doctor, Electing Love, Mything the Throne, and Favorite Coffee, Favorite Crush will be published in 2014. She is represented by Dawn Dowdle of Blue Ridge Literary Agency, and is Vice President of the Florida Romance Writers of America.
---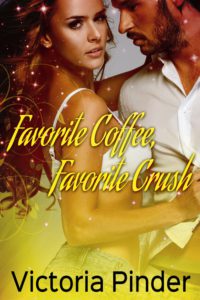 Favorite Coffee, Favorite Crush: Penny moves back to Miami to start her a job with a list of things to accomplish: 1) Find a place to live, 2) avoid her gold-digging mother, and 3) reconnect with old high school friends, including her former crush, Jay. But as soon as Jay sees Penny, he puts his plan into motion. His investors need to see him with a stable woman, one who isn't all flash and no brains; Penny fits the bill perfectly. There's just one hitch—he wants more. Their pretend date sets off a whirlwind of plots. From mothers who want to control their children's lives to the loss of her exciting new job, Penny's world turns upside down. She knows she can overcome all obstacles except one—she's falling for Jay all over again. Available at: Amazon, Barnes & Noble, and at Jupiter Gardens Press.
Victoria's website.
Tags: Favorite Coffee Favorite Crush, Florida Romance Writers, Jupiter Gardens Press, overcoming rejection, romance novels, Victoria Pinder, writing and wellness