Some people may find this difficult to fathom, but being a full-time writer can put quite a strain on the body.
When I'm really into my work, time ceases to exist. I can go hours without moving, and that's not healthy. It's bad for circulation and creates all kinds of aches and pains.
My husband and I both work out of our home office. It took multiple tries, but we finally found chairs and desks that suit our bodies and promote good posture. It was definitely worth the investment.
Efficiency is My Worst Enemy
I find that efficiency can be my own worst enemy.
Our office is upstairs and my natural tendency is to save time by limiting trips up and down. I'm trying to be a little less efficient these days, forcing myself to go up and down the stairs more often throughout the day, just to get moving.
When the weather is nice, I'll break for several walks during the workday. It's good for the body and it tends to spark creativity. When I'm facing a deadline, it may seem counterintuitive to break for a walk, but it actually increases productivity.
Nothing Prepared Me for the Emotional Toll of Memoir Writing

Writing articles on a freelance basis comes with many emotional challenges, but nothing could have prepared me for the emotional toll of memoir writing.
If you want to make your point, you need to get personal and create a sense of intimacy with your readers. You must allow them a glimpse into your soul without revealing every aspect of yourself. Deciding what's integral to the story is an emotionally exhausting process.
As each of my books hit the market, there was an initial burst of exuberance, followed by a tidal wave of self-doubt. What if nobody reads it? What if nobody likes it? What if this was all a colossal mistake?
Why Was I Compelled to Write in the First Place?
I occasionally have to remind myself why I felt compelled to write them in the first place. I think about my target readers and what they might get out of it. I also consider all the truly great writers who receive rejection letters and bad reviews.
When you're a writer, criticism is a given. It's going to happen. I can accept that not everyone will appreciate my work.
I've been very fortunate to have the full support of my husband and partner-in-all-things, Jim. He's the one who nudged me onto this path, and when things get rough, he helps me keep it in perspective. I also have lots of encouragement from my children.
For all the emotional challenges, there's an indescribable high when readers tell me that my book(s) helped them or touched them in some way. It's a rush unlike anything else, and it makes what I do supremely rewarding.
Advice for a Young Writer: Don't Flinch
If you're thinking about becoming a writer, the single biggest hurdle is making that decision in the first place. You don't have to be the most confident person in the world, but you have to be a writer.
You have to be able to call yourself a writer without flinching, even if you're unpublished, because if you don't believe it, no one else will, either.
You have to be willing to face the unknown, because there's no precise road map to success, no GPS system to guide you on your quest. Success, though, is yours to define.
Once you know you're a writer, it's hard to imagine any other life. I know I can't.
 * * *
Ann Pietrangelo is a freelance writer with a focus on health. As a multiple sclerosis and triple-negative breast cancer survivor, she uses her personal experiences to help others. Ann believes her sense of humor and stubborn streak are as instrumental to her writing career as they are to her survival. Her philosophy is simple: live each day to the fullest, give back, and dare to make a change, even when it's uncomfortable.
For more information on Ann and her work, please see her website, or connect with her on Facebook, Twitter, Google+, and YouTube.
---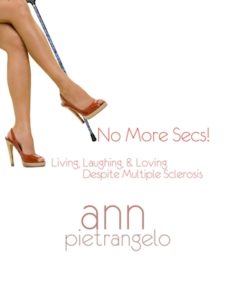 No More Secs!: When 44-year-old Ann Pietrangelo is diagnosed with multiple sclerosis, all previous assumptions about health, work, and her budding romance are up for grabs.
How do you plan for life's second half with a body you've never met before? One precarious step at a time. From the impersonal diagnosis by email to a wedding presided over by a funeral director, this is no tragic tale of woe. Like relapsing/remitting MS itself, the book alternates between the serious ("When I turn toward him, there's a big hole where his right cheek should be.") and the silly ("The bocce balls don't get out much.").
This poignant and often humorous story of acceptance and change trumpets a basic truth – that good health and life are fleeting, but love and humor can trump all. That every second matters soon becomes a point driven home by yet another life-altering diagnosis.
Available at Amazon.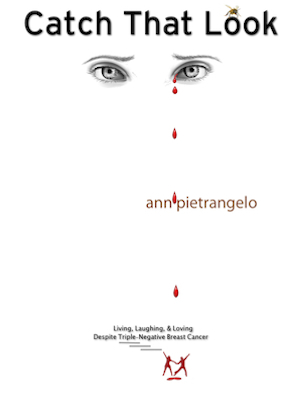 Catch that Look: Sometimes, when that "other shoe" finally drops, it drops hard. Ann couldn't believe her luck. After years of living with the debilitating effects of multiple sclerosis, she was making the most of her miraculous remission; although a part of her was always on the alert, waiting for the proverbial other shoe to drop.
It wasn't long before an accidental discovery of a lump led to her life-threatening diagnosis – triple-negative breast cancer. From a deeply personal perspective and told in riveting detail, "Catch That Look" explores the relationships between doctors and their patients, as well as between patients and their loved ones. With each new page, it becomes crystal clear that just as a picture is worth a thousand words, sometimes, when you catch it, a look speaks volumes.
From the author of "No More Secs! Living, Laughing & Loving Despite Multiple Sclerosis," this follow-up memoir is one that Ann never thought she would have to write. It offers the reader passionate insight into the emotional and physical turmoil of learning you have a second life-altering disease – and what it means to be a true survivor. For Ann and her husband, Jim, the diagnosis would test their "living, laughing, and loving despite" mindset. Would they pass this test? With foreword by Diane Radford, MD, FACS, FRCSEd, surgical oncologist and breast surgeon at Mercy Clinic St. Louis Cancer & Breast Institute.
Available at Amazon.
Tags: Ann Pietrangelo, Catch That Look, exercise, No More Secs!, sedentary lifestyle, writing and wellness