Spending large amounts of time looking down—be it at the computer screen or if I'm writing freehand—is very hard on my neck.
I was in a riding accident several years ago which resulted in a pretty severe neck injury, including damage to a nerve cluster called the "brachial plexus" on the left side of my neck/shoulders. If I look down too long or too often, I get migraines, and also stiffness/weakness on my left side.
My physical therapist gave me several exercises to do whenever my neck is strained. I also sit my laptop on a box on my desk so the screen is almost higher than eye level. I know this may pose strain on my wrists/arms in the future, but right now it works much better.
The Most Important Thing for Writers: Stay Active!
The most important thing for me to maintain physical wellness is to include at least an hour of outdoor physical activity every day, and I learned this the hard way.
I tried to lock myself inside to crank out a draft, and the longer I spent idle in my chair, the more my writing and creativity fell off. Abandoning my writing as a way to make it better was a hard concept to accept, but for me it proves true over and over.
When I'm in a mental/creative rut, the best thing I can do all the way around is to get outside and sweat. I have two large dogs, and they require a lot of exercise, so they're all the exercise equipment I need.
I have also found that the less connected I am to my cell phone, the better off I am wellness-wise both physically and mentally. It becomes habit to stare down at the tiny cell phone screen and scroll, scroll, scroll, but that disengages me from my immediate environment and gives me a royal crick in my neck.
Give Yourself Permission to Write

Something I still struggle with is giving myself permission to write, especially if the house is a wreck, or in the evenings when my husband is home. Guilt will creep into my office and suddenly I can't think through a single sentence, let alone a scene/plot line/ etc.
I had a meltdown last year when I was trying to draft book two in the Moonlit trilogy and said, "Writing isn't just a hobby anymore! I'm a published author! I'm under contract!"
And my husband said, "I know it's not a hobby, but do you? You need to establish hours, some kind of way to make yourself feel legit, if that's what it takes."
It was sound advice, and it works well for some writers I know, but it was also hard to follow for me. I never know when free time and inspiration will collide. I found that the opposite has really helped me: I will not write on Sundays (unless I'm approaching a deadline).
Sundays are saved for the family, and, weather permitting, we spend our Sundays almost entirely outside. We're working on our gardens right now, which is a great outlet for me. This no-writing day gives me the permission I need to give my attention to my writing during my free time on other days.
The One Thing That Has Kept You On Your Path
Even if I never published again, I would have to write. It's that simple. Writing is a part of wellness for me. Creativity can also be my biggest adversary, and if I don't give it an outlet, I can become consumed by my own thought spirals.
When I first became a mother, I developed postpartum anxiety, and the world suddenly became very frightening, all teeth and claws and terrible people who would snatch my daughter should I leave the house. So I stopped leaving the house.
When my husband and mother finally confronted me about this issue, it took me a little while to accept I had a problem. But I did. I was determined to learn how to talk myself off the ledge of the rabbit hole, as I call it, and out of my front door.
I used writing as an outlet to retrain my thought patterns. Writing fiction/fantasy is a fantastic way to face and destroy your biggest fears, because you can kill them slowly and with extraordinary satisfaction. Writing helped save my sanity. It is a huge part of my wellness and who I am. My wellness is the one thing, above all else, that will keep me on this path.
Advice for a Young Writer: Take the Long View
I think the hardest part is taking the long-view in terms of your writing and your career. Writing and story-telling are skills that must be continuously developed. Even now, just one book later, I look back at Moonlit and see little things I'd tweak, with my new and improved skills in my writer's toolbox.
But I can also say that the writing in Moonlit is the best I knew how to do at the time, and that's okay. Embrace where you are and learn as much as you can at every opportunity. We all start somewhere. We all have miles to go.
* * *

Georgia native Jadie Jones first began working for a horse farm at twelve years old, her love of horses matched only by her love of books. She went on to acquire a B.A. in equine business management, and worked for competitive horse farms along the east coast. The need to write followed wherever she went.
Jadie currently coaches a hunt seat equitation team that competes in the Interscholastic Equestrian Association, and lives with her family in the foothills of north Georgia. When she's not working on the next installment of the Moonlit series, she is either in the saddle or exploring the great outdoors with her daughter. Moonlit, book #1 in the Moonlit trilogy, is her first book. The sequel, Windswept, has been accepted by WiDo Publishing, and is due for release mid-2014.
For more information on Jadie and her work, please see her website and blog, or connect with her on Facebook and Pinterest.
---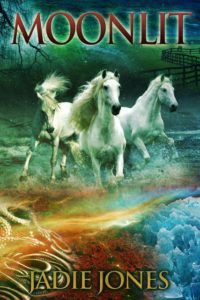 Moonlit: Eighteen-year-old Tanzy Hightower knows horses, has grown up with them on Wildwood Farm. She also knows not to venture beyond the trees that line the pasture. Things happen out there that can't be explained. Or undone. Worse, no one but she and the horses can see what lurks in the shadows of the woods.
When a moonlit ride turns into a terrifying chase, Tanzy is left to question everything, from the freak accident that killed her father to the very blood in her veins. Broken and confused, she turns to Lucas, a scarred, beautiful stranger, and to Vanessa, a charming new friend who has everything Tanzy doesn't.
But why do they seem to know more about her than she knows herself?
Available at Amazon and Barnes & Noble.
Tags: anxiety, challenges of writing, Jadie Jones, Moonlit, mothers who write, postpartum anxiety, the writing life, wellness, WiDo Publishing, writing